Closing policy gaps for survivors of sexual violence
Unsafe abortion continues to contribute significantly to maternal mortality and morbidity in Uganda.
Image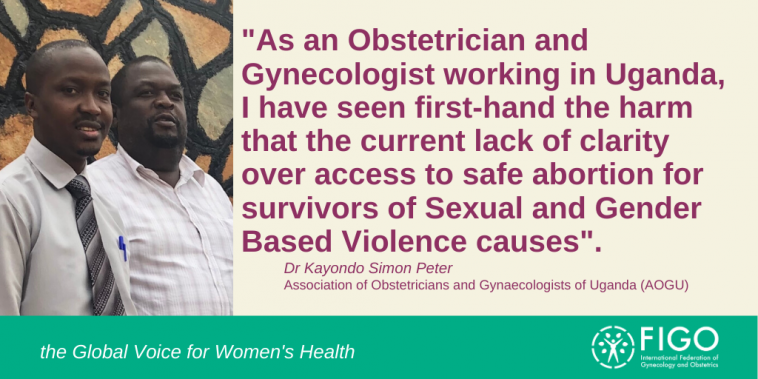 To mark the 16 Days of Activism against gender based violence, Dr Kayondo Simon Peter, Obstetrician and Gynecologist, Project Coordinator for the FIGO Advocating for Safe Abortion project at the Association of Obstetricians and Gynaecologists of Uganda (AOGU),  highlights how a policy gap is denying access to safe abortion for survivors of sexual violence, as well as other women.
In Uganda, the prevalence of gender based violence is high. 60 per cent of women will experience it in their lifetimes. It is worsened by harmful cultural and societal beliefs about the 'woman's place'.  
Sadly, in Uganda, survivors of gender based violence are unable to freely access a safe termination of pregnancy, if that is their choice. As a result, they may resort to unsafe methods, which can lead to death or complications.
More than half of all pregnancies in Uganda are unintended and nearly a third of unwanted pregnancies end in induced abortion.
"The Ugandan Ministry of Health estimates that abortion-related causes account for 26% of maternal mortality. This translates into about 4 women dying from complications of unsafe abortion per day, and for every maternal death, a further six women suffer severe morbidity." Dr Kiggundu Charles, Senior Consultant Obstetrician and Gynaecologist, Uganda.
Legal challenges hamper safe abortion provision for survivors
The Ugandan law on abortion is restrictive, only allowing termination of pregnancy under a limited number of circumstances. The Ugandan Constitution, in Article 22, item 2 states: "No person has the right to terminate the life of an unborn child except as may be authorised by law."
However, what is authorised by law remains poorly understood. A major cause of this lack of understanding is that the line policies and guidelines, which are essential for functionalising the law, are missing.
The Sexual and Reproductive Health Service Standards and Guidelines (2017), were supposed to give guidance to the categories under which safe abortions can be offered legally. Their already long overdue launch was highly anticipated in 2018, but was pulled at the last minute, due to disagreements on which age of young people could be offered contraception – either at reproductive age (15-49) or the age of consent (18 and above).
Another enabling guideline, the Ministry of Health's Standards and Guidelines for the Reduction of Maternal Morbidity and Mortality from Unsafe Abortion in Uganda, issued in June 2015, which clearly listed the circumstances under which a woman could be offered a safe abortion, including rape, defilement and incest, was also later withdrawn.
The previous policy guidelines, The Sexual and Reproductive Health Service Standards and Guidelines 2012, prescribed offering a safe termination of pregnancy to victims of rape, defilement and incest, in consultation with lawyers. However, these guidelines are now out of date and therefore not usable.
As a result, there is a policy gap, which leaves access to safe abortion for survivors of sexual violence, as well as other women in tatters.
A call for clear guiding policies
As an Obstetrician and Gynaecologist working in Uganda, I have seen first-hand the harm that the current lack of clarity over access to safe abortion for survivors of Sexual and Gender Based Violence causes.
With a confusing law, and in the absence of clear guiding policies, health workers are afraid to offer safe abortion services, even if they recognise their necessity under the circumstances. This is because of the harsh punishments, including long prison sentences, prescribed breaking the law related to abortion under the Penal Code.
The fear is so deeply entrenched among some health service providers, that some shy away from providing even post abortion care, which is completely legal, as there have been instances when health workers have been mistakenly arrested for providing these services, being presumed to be providing abortions.
The Association of Obstetricians and Gynaecologists of Uganda (AOGU), therefore calls upon the Ugandan Government to:
Hasten the passing of the guiding policies and guidelines,
Functionalise article 22 of the constitution,
Give guidance and confidence to the health workers offering safe abortion and post-abortion care services by clarifying the law, 
Increase access to safe abortion services for survivors of sexual gender based violence, and to all women.
These recommendations will significantly reduce maternal mortality and morbidity attributable to unsafe abortion complications.
Read more about FIGO's Advocating for Safe Abortion Project.