Dr Hillary Mabeya, Volunteer Expert Advisor and Trainer
Image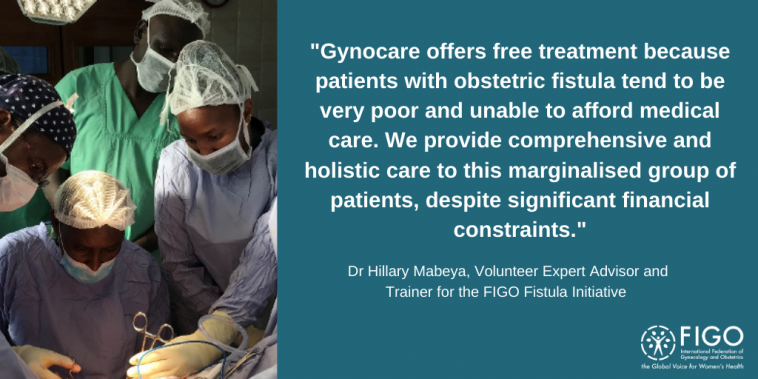 Obstetric fistula is a devastating childbirth injury that results from prolonged, obstructed labour. Since 2012, the FIGO Fistula Surgery Training Initiative has been building the capacities of local trainee fistula surgeons – 'FIGO Fellows' – and multidisciplinary teams to provide treatment for women suffering from obstetric fistula in some of the world's most underserved communities.
Dr Hillary Mabeya is an Obstetrician, Gynaecologist, Expert Fistula Surgeon and Director of Gynocare Women's and Fistula Hospital in Eldoret, Kenya, which is a FIGO Training Centre. For International Volunteer Day 2020, we spoke to him about his important work with Gynocare and as a volunteer Expert Advisor and Trainer for the Fistula Initiative.
Thank you so much for agreeing to be interviewed Dr Mabeya. Please can you start by telling us about Gynocare and your work as a fistula surgeon?
Gynocare Women's and Fistula Hospital is an organisation that aims to strengthen the health system by providing safe motherhood and obstetric fistula repair services in Kenya and neighbouring countries. Gynocare was set up in 2011 in Eldoret town in the North Rift Region of Western Kenya, an area with a population of 15 million people, many of whom are farmers and pastoralists.
Our main focus is the surgical repair of obstetric fistulas, and the rehabilitation and reintegration of patients after surgery. Since opening, we have treated more than 5,000 fistula patients. We also offer services to prevent fistula through subsidised and free obstetric care, under the Linda Mama government initiative. In addition, we provide sexual assault treatment and rehabilitation, and cervical cancer screening and treatment services.
The majority of fistula patients admitted to our hospital suffer from other illnesses, such as anaemia, malnourishment, malaria, foot drop, HIV, psychological problems (e.g. depression) and urine infections. Most patients therefore have a long hospital stay, often requiring specialised care, including nutritional support, psychosocial care, blood transfusions, physiotherapy, and sometimes HIV treatment too.
Gynocare offers free treatment because patients with obstetric fistula tend to be very poor and unable to afford medical care. We provide comprehensive and holistic care to this marginalised group of patients, despite significant financial constraints.
What are the three biggest challenges in providing care to women affected by fistula?
The three biggest challenges in providing care for fistula patients are:
Financial constraints, due to the fact that most fistula patients are very poor and cannot afford the life-changing surgery and rehabilitation they require;
The lack of skilled fistula surgeons and trained fistula care staff who can handle this very complex surgery in areas of the world where obstetric fistula occurs;
Challenges in reaching women with obstetric fistula, as they often live in shame and do not know that their condition can be treated and where fistula services are offered.
We are delighted that you are part of the FIGO Training Initiative as both a Trainer and a volunteer on our Expert Advisory Group, can you tell us about your work with FIGO and why you decided to become involved in the initiative?
The FIGO Training Initiative has provided a forum to train more doctors and health teams in fistula care, with the goal of greatly increasing the number of skilled surgeons and nurses. FIGO has helped to identify areas that need fistula treatment services and trains staff from those areas.  I was very pleased to join FIGO to be part of this change-making team and to help train more surgeons and health professionals provide treatment for women with this neglected condition.
How has the current global COVID-19 pandemic affected your work this year and what do you think will be the effects over the longer term?
The unprecedented COVID-19 pandemic will definitely increase cases of obstetric fistula, due to greater delays in women getting to hospital, deepening poverty and a subsequent rise in home deliveries. Fear of the virus has stopped some mothers going to hospital, so more women are having home births, which increases the risk of poor maternal and newborn outcomes, including obstetric fistula, and even maternal death. This situation is worsened by curfews and lockdowns, as families are afraid to use public transport or they fear getting caught outside at the wrong time.
Although some fistula patients are still coming for surgery, fewer have been coming in recent months, as they are no longer traveling from other locked down areas. We anticipated that fistula repairs would decline during this period, but do expect overall numbers of women with obstetric fistula to increase because of the many new cases arising from the pandemic.
The number of women delivering in Gynocare has also increased because the other maternity hospital in Eldoret has been made into a COVID isolation centre. Hence, there is a greater need to protect our patients and medical personnel, but the costs of hospital consumables have doubled or even tripled.
In the last few months, a serious second wave of the pandemic has hit Kenya. COVID numbers have increased tremendously and many colleagues have died and are dying every day as cases have continued to rise.  We have some tough months ahead, but with the help of our partners, including FIGO, we hope our team will stay safe and that number of COVID cases will reduce by January so we can continue our important work.
What do you consider to be your greatest accomplishment or proudest moment in your fistula work?
My greatest achievements are the large number of surgeons and healthcare workers who have been trained and are now providing high quality fistula care in different parts of the world; the thousands of fistula patients treated successfully, who are now leading a better life, away from shame and stigmatisation; and the setting up of the modern Gynocare Fistula Center, with the support of Fistula Foundation and other well-wishers. That has been a big life achievement for me.