FIGO announces a workshop for the sustainable implementation of vaccination programmes for women
From 4–6 July 2022, FIGO will host an interactive workshop in Prague (Czech Republic), which will be streamed online. The workshop will aim to identify, collate, and share the best current practices in implementation of vaccination strategies for women, with focus on HPV vaccination for the prevention of cervical cancer, screening for pre-cancerous conditions and vaccination during pregnancy.
Image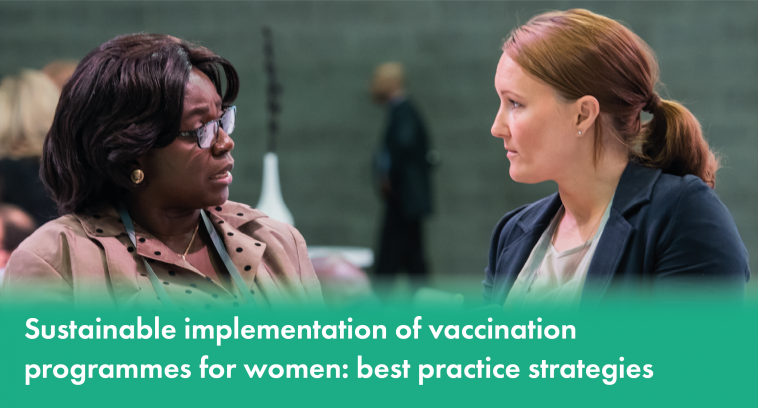 This workshop aims to identify specific barriers to the implementation of current World Health Organization (WHO) guidelines on vaccination programmes for women, including the WHO 2020 Global Strategy for the Elimination of Cervical Cancer.  
Delegates are invited to share diverse experiences of in-country implementation of both HPV vaccine and other immunisation programmes for women. Interactive discussion groups will enable the development of a set of best practice strategies for sustainable vaccination programme implementation, applicable to diverse settings and intended for global distribution. 
Programme at a glance  
Speakers with expertise in the sustainable implementation of strategies to improve the uptake for vaccination and screening for cervical cancer and other vaccination programmes for women will present case studies of successes and challenges, methods of scaling up, and research developments. The workshop will also host series of panel discussions on topics across vaccination in women's health, including specific issues for research, the role of vaccination in WHO guidelines, management of anti-vaccine misinformation, and ethical issues relating to vaccination access. A pre-workshop document, containing a suggested reading list, will be circulated to participants who may wish to undertake preparation in advance. 
View the full provisional programme for more information. 
Why vaccination?  
According to Professor Joanna Cain, Associate Member of FIGO's Committee on Women's Cancer and current member of WHO Guidelines Development Group (GDG) for elimination of cervical cancer, women and girls face specific challenges that create lifelong barriers to lifesaving vaccines. This includes research gaps (related to issues around pregnancy, for instance), knowledge gaps, gender inequities in access to health care, and socioeconomic and cultural attitudes.  
As highlighted by Professor Cain, the HPV vaccine has the potential of virtually eliminating cervical cancer. Both FIGO and the WHO have committed to eliminating cervical cancer. She underlines that "implementation strategies to achieve that goal must draw on the broad base of vaccination knowledge and strategies across women's life continuum to overcome the barriers faced by women and girls".  
FIGO is bringing together individuals involved in vaccination programmes and research from across the globe to share key knowledge addressing the gaps that impact lifelong vaccination for women, to focus those insights on sustainable implementation strategies for HPV in all settings, particularly LMICs and underserved regions globally.

– Professor Joanna Cain  
Further information 
The workshop will take place in-person with a livestream of the presentations available online. Those interested in attending the workshop can find further information and register online. 
The workshop will take place in English. Simultaneous interpretation of the live presentations will be available in French and Spanish, subject to demand, for both in-person and virtual delegates.