FIGO urges Polish authorities to drop all charges against Justyna Wydrzyńska
Image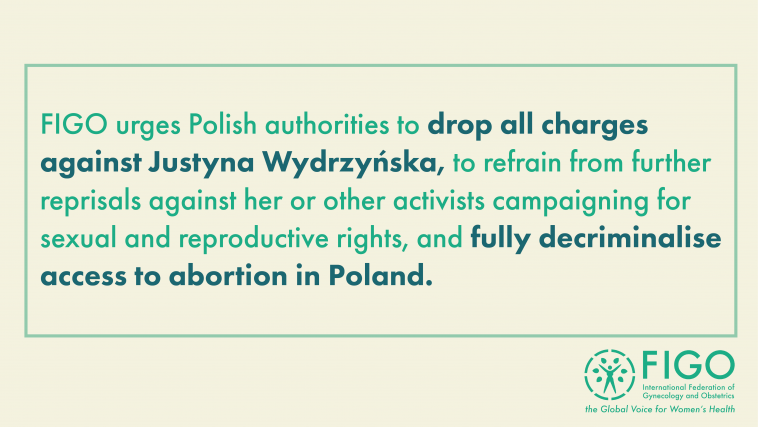 FIGO has written a letter to the Polish Public Prosecutor General, Mr Zbigniew Tadeusz Ziobro, to share our evidence-based recommendations in relation to charges brought against Justyna Wydrzyńska, a Polish community care provider and human rights activist. 
Wydrzyńska could face up to three years in prison for providing medical abortion tablets to a woman experiencing domestic violence. This is the first instance in Europe of an activist being charged with aiding an abortion by providing pills.
FIGO stands in solidarity with Justyna Wydrzyńska and calls for all charges against her to be dropped. Poland's abortion legislation is among the most restrictive in Europe and globally. Global evidence demonstrates that restricting abortion with laws does not lead to fewer abortions, but to an increase in unsafe abortions and preventable maternal deaths and disability.
FIGO regards reproductive autonomy, including access to safe abortion services, to be a basic and non-negotiable human right of every woman and girl in the world. The provision of safe abortion is time-sensitive, essential health care. Safe abortion care should be available on request, universally affordable, and accessible – as early as possible and as late as necessary.
FIGO calls for the total decriminalisation of safe abortion, and for the promotion of universal access to abortion, post-abortion care and evidence-based, non-biased abortion-related information, free of force, coercion, violence and discrimination. Abortion should be removed from criminal law and regulated by laws consistent with every other medical procedure, and with the wellbeing of women and girls placed at the centre of their care.
FIGO urges the Polish authorities to drop all charges against Justyna Wydrzyńska, to refrain from further reprisals against her or other activists campaigning for sexual and reproductive rights, and fully decriminalise access to abortion in Poland.
View FIGO's letter to Public Prosecutor General, Mr. Zbigniew Tadeusz Ziobro , available in Polish as well as in English. 
If you would like to show your personal support for Justyna Wydrzyńska, take action via Amnesty UK's campaign.
Related FIGO statements
FIGO's global statement to decriminalise abortion: www.figo.org/resources/figo-statements/figo-calls-total-decriminalisation-safe-abortion
FIGO endorses the permanent adoption of telemedicine abortion services: www.figo.org/FIGO-endorses-telemedicine-abortion-services
Addressing barriers to safe abortion: https://www.figo.org/resources/figo-statements/addressing-barriers-safe-abortion