FIGO at World Health Assembly 2018
Image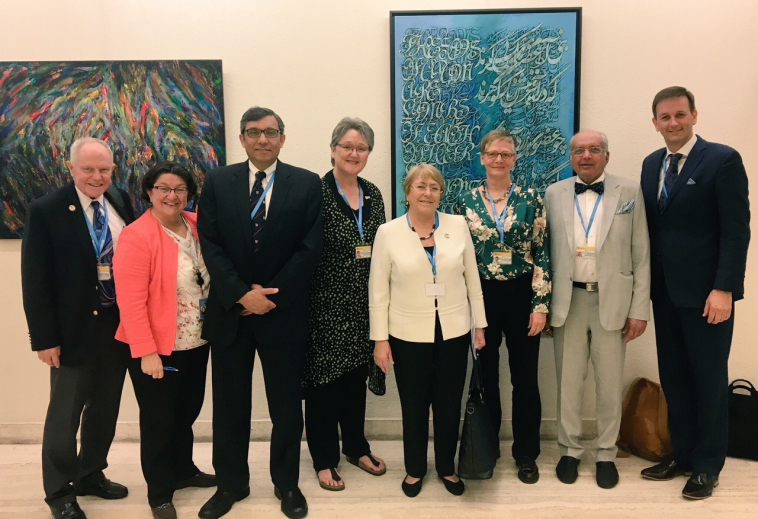 FIGO is in 'official relations' with the World Health Organization (WHO), and this allows us very privileged access to participate in the World Health Assembly in Geneva every year in May, and contribute to discussions addressing women's health and well-being. 
This year, FIGO organised two side events on 'Gynecological Oncology' and 'Pregnancy and NCDs'.  In close collaboration with Member Societies the RCOG (UK) and the ACOG (USA), and the AFOG (African Federation of OBGYN), we were able to make FIGO very visible and demonstrate our leadership on these two very important topics. 
FIGO is committed to contributing towards Dr Tedros' ambition of Health for All. We were pleased that on the final day the Seventy-first World Health Assembly approved WHO's 13th General Programme of Work (GPW13). This programme outlines Dr. Tedros' ambitious "triple billion" aims to provide 1 billion more people with universal health coverage, keep 1 billion more people safe from health emergencies, and promote health and well-being for 1 billion more people. The programme also clearly outlines that "WHO will only succeed if it bases its work on the Sustainable Development Goals (SDGs). The 2030 Agenda for Sustainable Development views health as vital for the future of our world."
The programme also highlights that multi-sectoral action is the pathway through which WHO will contribute to health in all 17 SDGs, addressing that contributions are required from many partners; not only member states, but also non state actors like FIGO.
We were fortunate to have Dr Tedros attend our Official 'Gynecological Oncology' side event where he again confirmed his commitment to eliminate cervical cancer.
"Thank you so much for your commitment also to this. I look forward to working with you to make this happen. WHO is ready to partner with you and contribute its share."
If we are to progress towards ensuring equitable health and well-being for all, at all ages, we must work together more effectively. Developing a stronger relationship with Member Societies, and helping them build capacity, is an important priority for FIGO – particularly for low-resource countries.  We are proud to work together with our 130 Member Societies and Regional Federations, and we have a number of new initiatives in place to support them. 
Through our new strategic plan, our aim is to be 'the global voice for women's health'. We are committed to making FIGO's voice, and that of our member societies, much louder and more relevant, showcasing our excellence and expertise on a wide range of topics. However, we cannot do this without your involvement. If you are interested in sharing news from your country and region please get in contact at [email protected].
FIGO can only contribute to the ambitious goals of WHO's 13th General Programme of Work (GPW13) if we are a strong, engaged Global Federation. Not only will this help women to receive improved support and quality of life - this will also help reduce morbidity and mortality rates. In many low-resource countries, there are preventable measures, but they require political engagement.
We are greatly looking forward to the FIGO World Congress is in October. We are expecting over 8,500 participants, but it's not too late, there is still time to register.  The focus for the Congress has changed, as we see it not only as an opportunity to showcase excellence in all our sub-specialities, but also to facilitate global discussions with key strategic partners, such as the WHO, the UN, and the UNFPA, and the many related professions that FIGO routinely collaborates with. 
Don't miss out - register today to ensure you are part of this landmark meeting, and have a chance to experience the very best of Latin America!
We look forward to seeing many of you in Rio.