A global imperative for Universal Health Coverage
Image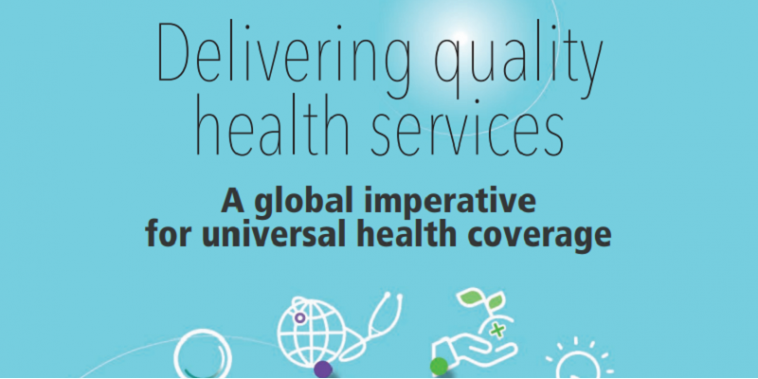 Would you be happy going to hospital if you knew the chances were that clinical practice guidelines would be followed less than 50% of the time? Or that there was a 1 in 10 chance you would get adversely affected during treatment? Probably not.
Providing access to health services alone is not enough – governments must ensure that services provided are also of high quality. This is the crux of a new report Delivering quality health services - A global imperative for universal health coverage from the World Health Organization (WHO), OECD and the World Bank, which highlights global deficiencies in health services and calls on governments to build quality into their health systems.
Quality of care is the degree to which health services for individuals and populations increase the likelihood of desired health outcomes and are consistent with current professional knowledge
In terms of maternal and child health, the report highlights how poor quality of care is responsible for the persistent high levels of maternal and child mortality in low- and middle-income countries, despite progress made in improving access to essential health services including facility-based delivery, made throughout the last two decades.
While each country will have different needs and will have to develop country specific, multimodal strategies, they should all be focused towards meeting these five universal goals, to:
reduce harm to patients
improve clinical effectiveness of the health services delivered
engage and empower patients, families and communities
build systemic capacity for ongoing quality improvement activities
strengthen governance and accountability
The document describes the steps needed and actions to be levered in order to build quality into the foundations of health systems, and shares lessons learned for scale-up of successful interventions.
Quality of care is at the heart of FIGO's work, encapsulated in our vision that "women of the world achieve the highest possible standards of physical, mental, reproductive and sexual health and wellbeing throughout their lives." We are a part of the Quality of Care Network and have long been a signatory of the Charter on the Universal Rights of Childbearing Women. Our working groups, committees and projects are each thematically focused on developing, researching or implementing best clinical practice.
The FIGO Safe Motherhood and Newborn Health Committee's initiative on mother-baby friendly birthing facilities created useful guidelines with key partners, for implementing quality improvements in maternity facilities with a focus on respectful care:   
The report outlines that to achieve the health-related SDGs 'requires a strong commitment to creating people-centred, high quality health services'. 'Advancing quality improvement, universal health coverage and people centred approaches within the complexity of health systems requires a deliberate and comprehensive understanding of the dynamics of health systems in order to make them change for the better'.  
We encourage you to read and share this new report and think about how you can improve quality of care for women and girls in your practice, in your facility, through your professional association, or with your ministry of health.