Impact of COVID-19 on access to abortion, post-abortion care, and contraception
Image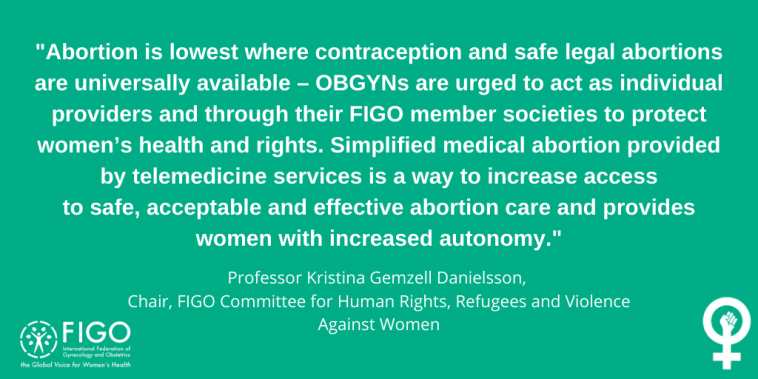 On 27th August 2020, we held a webinar on women's sexual and reproductive health and rights (SRHR) during COVID-19. Below is part three of a summary of the points raised and topics discussed during the webinar, written by our Human Rights, Refugees and Violence Against Women Committee.
The issue
Effective contraceptive methods and safe abortion care are prerequisites for reproductive health, and sexual and reproductive health and rights (SRHR) constitute fundamental human rights. Reducing complications to abortion is key to achieving sustainability and development goal (SDG) 3. This includes ensuring access to family planning, safe abortion services and post-abortion care.
COVID-19 has had devastating effects on women and girls. According to United Nations Population Fund (UNFPA), about 7 million unintended pregnancies across the globe will result from the pandemic. In response to COVID-19, countries have taken different approaches to changing abortion regulations and family planning practices, ranging from imposing restrictions to alleviating certain requirements. New restrictions and border closures in response to COVID-19 will widen inequities in access to contraception and abortion care. Therefore, we must look at (new) ways of mitigating these effects, such as reduced in-person clinical visits, expanded availability via telemedicine and relaxed regulations around mifepristone delivery.
Medical abortion and Telemedicine
Today, medical abortion is one of the safest medical procedures and increased access can lead to a decline in maternal morbidity and mortality. The combined method of mifepristone and a prostaglandin analogue was innovated at the World Health Organization (WHO) official Collaborating Centre, the Karolinska Institutet, and further developed by the WHO and other organisations. The WHO Guidance on Safe Abortion emphasises the simplifying of abortion care and the high value of research to demedicalise abortion care. It also suggests the evaluation of internet provision and telemedicine as further alternative service delivery channels.
Development and implementation of simplified medical abortion has included 'home use' of misoprostol, task-shift/-sharing from doctors to nurse/midwives and to women themselves, simplified procedures for follow-up, expanded access (from very early to beyond nine weeks), post-abortion care (PAC) with misoprostol and quick start of contraception, and telemedicine counseling and provision.
The first telemedicine abortion service started in 2006 and is now well established and can be widely implemented. Abortion is lowest where contraception and safe legal abortions are universally available – OBGYNs are urged to act as individual providers and through their FIGO member societies to protect women's health and rights. Simplified medical abortion provided by telemedicine services is a way to increase access to safe, acceptable and effective abortion care and provides women with increased autonomy.