International Safe Abortion Day - Zambia DJ Shows Support
Image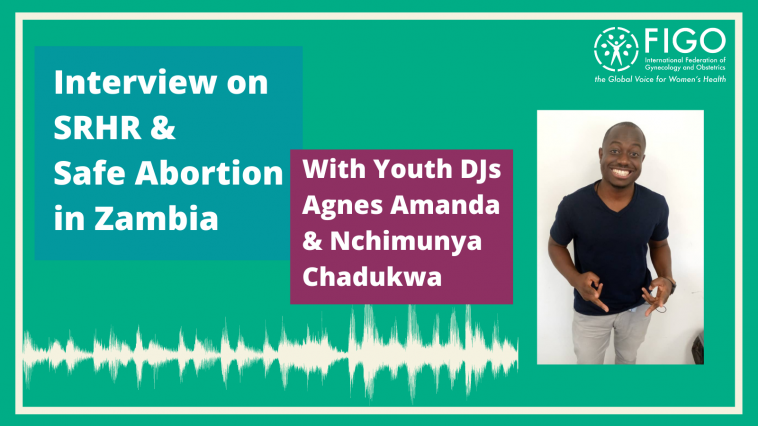 Head over to our dedicated International Safe Abortion Day page HERE for more content just like this!
Zambian Youth DJs spin and OB-GYNs and stand in solidarity with women and girls - the International Safe Abortion Day (28th September)
Community Radio (Youth DJ Nchimunya Chadukwa whilst spinning his records) interviewed Dr. Whyson Munga, an OB-GYN at the Women and Newborn Hospital at Lusaka's University Teaching Hospital, to learn more about the sexual reproductive rights of adolescents and to better understand the issue of current statistics on early pregnancies in young people, and the impact of unsafe abortion on and why access to safe abortion services is a fundamental human right of all women/girls in Zambia.
The idea of the radio programme stemmed from the advocacy training by FIGO in June. Local youth community-based organisations and doctors agreed to jointly host a radio programme with the latter playing the role of interviewee and the former as DJ/interviewers. It was felt that to reach out to the young audience and make it more relatable, it would be interesting for young people themselves to run the show.
Contributor: Nchimunya Chadukwa  (Zambian young radio presenter/DJ)   
Introduction – please tell us a bit about yourselves: name, age, how you got into communications/radio
My name is Nchimunya Chadukwa and I am 20 years old. I got into communications as a media and broadcasting volunteer at Chikuni Community Radio station in Southern region of Zambia immediately after leaving high school in 2017. The experience was enriching as it gave me first-hand experience in transforming community issues into relevant stories that stimulate community action for positive change.
Why are you interested in SRHR specifically access to safe abortion? why do you think is this issue is important for the people of Zambia – specifically women/girls?
SRHR is a controversial issue in Zambia let alone abortion. This is because of cultural and religious inclinations that are mainly at variance with the subject. However, evidence suggests that a lot of women and girls suffer serious injury or death in pregnancy or during child-bearing owing to lack of information on SRHR. Early pregnancy is also a major contributor to unsafe abortions in Zambia. To this effect, I became interested as I believe that SRHR are human rights and any loss of life is one too many.  Besides, Zambia is a signatory to several international agreements on the rights of women, therefore fully embracing SRHR would make gain Zambia a lot of international respect.
Why is it specifically important for you to speak about this issue? 
Martin Luther King Junior once said that we "Our lives begin to end the day we become silent about things that matter." There are many young women that have been denied the right to happiness and never fully exploited their potential because owing to stigma, they feared to terminate a pregnancy they never intended to have.

In light of this, there is need for a complete behavioural change towards SRHR and the role of the media can never be overemphasised. It has been proven time and again that media is an important vehicle of change as it helps in shaping societal values, attitudes and behaviours.
What do/did you hope to achieve with your radio programmes?
The radio programs aim is to disseminate information on SRHR with particular emphasis on safe abortion.  Furthermore, the programmes encourage both parents and adolescents to feel free to freely discuss sexual issues as that would help adolescents make right choices. It also encouraged the listeners to visit health facilities for professional counselling from trained heath providers when considering an abortion.
What was most impactful for you – regarding the radio programmes? 
 My key learning point was on the consequences of unsafe abortions and how the practice may cause serious illness and even death to the victim. What stood out even more was that health workers are very interested to listen to the concerns of adolescent girls and are willing to help them make the correct decisions.
How do you plan to continue your work on the issue of right to safe abortion addressing preventable maternal mortality?
Social media has in the past been patronised by young people. The majority of social media users today, are young people. To this effect, I intend to continue advocating for proper information on safe reproductive choices through my social media accounts by sharing posts done by the ZAGO to maintain legitimacy of the information.
Any other observations, quotes, learnings you would like to share.