Midwives: A Critical Key to Ensuring Women and Girls' Health Globally
Image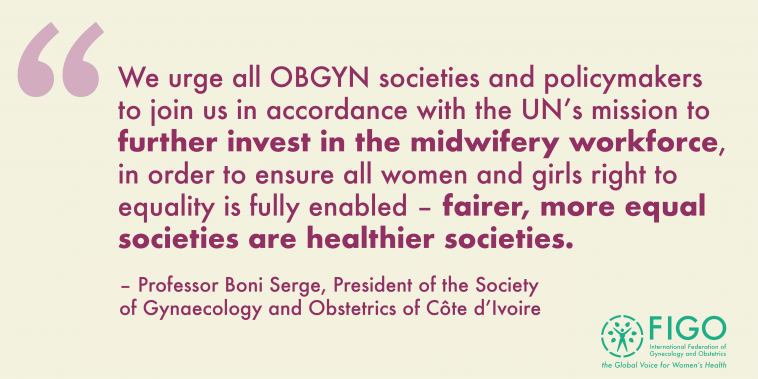 OBGYNs and midwives are part of an essential ecosystem of health workers that provide crucial health care in delivering women and girls' sexual and reproductive health and rights (SRHR) globally. In lower-middle-income countries where health care facilities outside of capitals can be few and dispersed, midwives in particular are counted on to ensure that women, girls, and newborns receive appropriate care, support and counselling. Professor Boni Serge, President of the Society of Gynaecology and Obstetrics of Côte d'Ivoire (SOGOCI), shared with us the important leadership role midwives have in Côte d'Ivoire.
Midwives are critical in the fight to reduce preventable maternal deaths and disability
Data from 2016 showed that, with a population of over 20 million, there are not enough health care workers in this coastal West African country (WHO, 2016). More recent data show that while there are more than 6,000 midwives spread across the Ivorian territory, there are only just over 440 OBGYNs. In addition, there is an unequal geographical distribution of these OBGYNs, with the majority of them located in the Ivorian economic capital of Abidjan.
Midwives represent a critical linchpin in SRHR delivery because they are both based in and are from the communities they serve; they are a trusted point of contact for women and girls for maternal health care, and are often the only health care providers available that can offer first aid to patients. The World Health Organization (WHO) states that of all essential sexual and reproductive maternal and newborn health services, 87% can be provided by a midwife. In Cote d'Ivoire, many women and girls only have access to sexual and reproductive health care services through midwives. Due to this, it is essential that midwives be placed at the centre of SRHR discussions and decision making.
Between 2000 and 2017, the maternal mortality ratio (number of maternal deaths per 100,000 live births) decreased by 38% worldwide. Despite this, maternal mortality rates remain highest in Sub-Saharan Africa with 546 deaths per 100,000 live births. The UNFPA states that the vast majority of maternal deaths can be prevented with proper antenatal, delivery and postnatal care services provided by midwives.
Professor Boni Serge affirmed that, "the core mission of the SOGOCI, along with the Ministry of Health and Public Hygiene, is to ensure that no woman or girl in Cote d'Ivoire dies from a preventable cause." 
Providing comprehensive abortion care
Unsafe abortion is one of the leading contributors to maternal mortality and disability worldwide, accounting for approximately one in six pregnancy-related deaths in West Africa. According to the Population Reference Bureau, more than six out of ten abortions carried out in Cote d'Ivoire in 2018 were unsafe. Around half of abortions in Cote d'Ivoire take place at home, with the other half carried out in health care facilities. Home abortions are usually carried out by traditional service providers or by the woman or girl herself. In health facilities, around 32.5% of abortions are performed by doctors and about 14.6% by nurses and midwives. The number of women who have experienced complications from at-home abortions is disproportionately higher than those who have had an abortion conducted in a health are facility.
SOGOCI, along with the support of FIGO, is implementing the Advocating for Safe Abortion Project. One of the main objectives of the project is to increase acceptance of safe abortion among health workers, policymakers and the general population. This, in turn, may encourage women and girls in Cote d'Ivoire to seek out safe abortion services from health workers, thereby reducing the harm resulting from unsafe abortions.
 "In two years, during the installation of its 11 subsections, the SOGOCI has worked with 529 midwives to enhance their skills to conduct safe abortions. The right to health care implies access to all health services, including post-abortion care and safe abortions. SOGOCI is committed to working with diverse partners, in order to strengthen women and girls' rights to reproductive health care services which includes access to safe abortion – a time sensitive essential health service."
In addition to providing health care services, midwives assume leadership roles in data collection processes. These are important tools in ensuring effective, evidence-based advocacy efforts are used to continue to improve the situation in the country.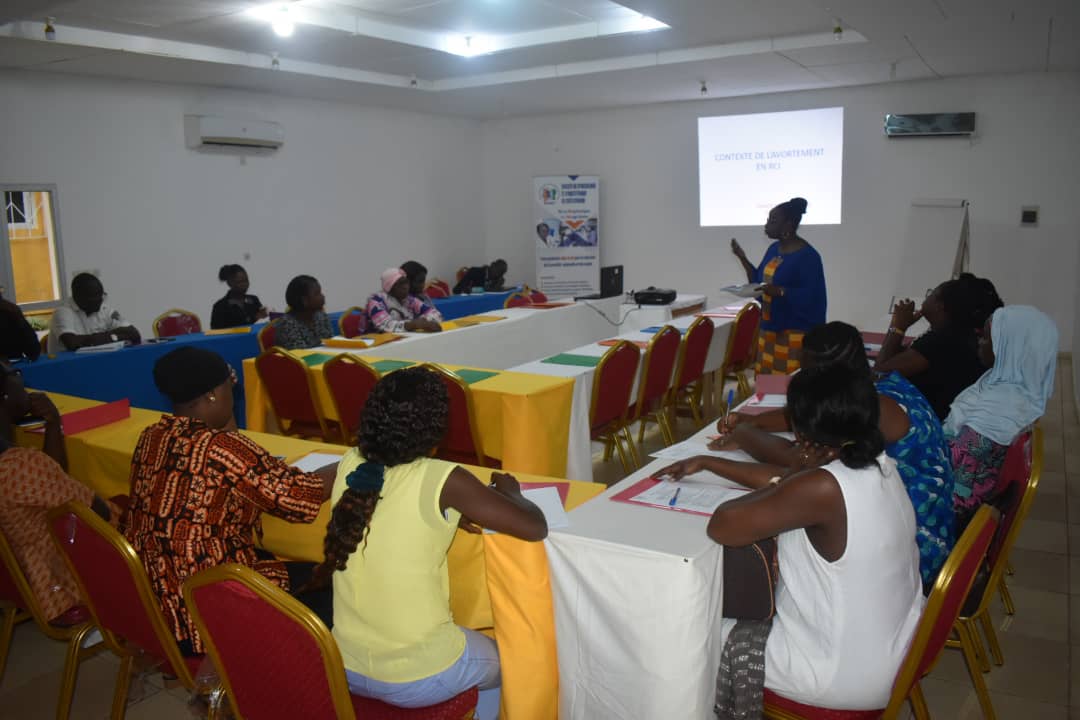 Increasing collaboration, solidarity, and engagement with midwives
"Midwives, distributed within our 11 sub-sections of the SOGOCI, it is you who are our armed forces, it is you who are in the field and in direct contact with the patients. Whenever we have the opportunity to address you, we will not miss the opportunity to congratulate you and to urge you to continue this noble mission. I thank you." – Professor Boni Serge's message to midwives.
IThe UN in its recent '2021 State of World's Midwifery' report, the UN sounded the alarm that there is a global shortage of 900,000 midwives. The report emphasised gender inequality as one of the main drivers leading to the shortfall in midwives due to governments and health systems not valuing the role and skills of midwives – the majority of whom are women. In addition, due to the lack of political will in prioritising the SRHR of women and girls, there is continuous under-resourcing of SRHR services which includes resources and investment for the midwifery workforce. A paper published in The Lancet (2020) highlighted that a full investment into midwives by 2035 would prevent about two-thirds of maternal and newborn deaths and stillbirths, thus saving roughly 4.3 billion lives per year.
SOGOCI urges its members – comprised of both midwives and OBGYNs, policy and decision makers – to increase their collaboration, solidarity and engagement with midwives. There are multiple approaches this can be achieved which include and are not limited to policy changes to strengthen investment and resources for midwives, in addition to behavioural changes to reduce gender inequalities that midwives face.
"SOGOCI places great importance in ensuring its members respect the sexual and reproductive rights of women, girls, and minorities (LGBTI, people with disabilities and other marginalised communities). We acknowledge and attempt to reduce the hierarchical tensions between OBGYNs and midwives, by recognising the valuable contributions and skills of midwives and ensuring they are provided continued opportunities to enhance their leadership role within the SOGOCI. We urge all OBGYN societies and policymakers to join us in accordance with the UN's mission to further invest in the midwifery workforce, in order to ensure all women and girls right to equality is fully enabled – fairer, more equal societies are healthier societies."