New IJGO supplement on heavy menstrual bleeding, iron deficiency and pregnancy
Image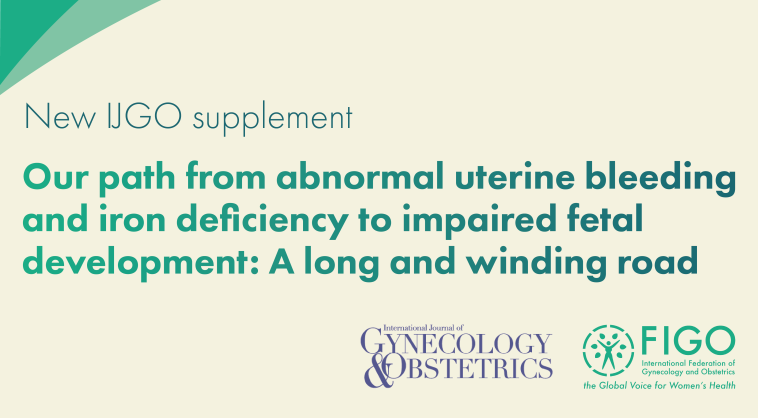 The International Journal of Gynecology and Obstetrics (IJGO) has published a new supplement, "Our path from abnormal uterine bleeding and iron deficiency to impaired fetal development: A long and winding road". This supplement, developed by the FIGO Committee on Menstrual Disorders and Related Health Impacts, aims to lay out a comprehensive overview of the links between heavy menstrual bleeding (HMB), iron deficiency (ID), and neonatal development. 
The effects of HMB and ID on women's health and foetal development  
In recent years, the link between HMB and ID has become more evident. HMB is far more common than initially thought, and it is likely that the overwhelming majority of those affected also have ID and its related impacts. In addition, when ID is present during pregnancy, there is an increased risk for several adverse obstetric outcomes and the developing foetus is at risk for, among other disorders, neurodevelopmental impairment. 
Girls and women around the globe continue to experience the symptoms of HMB, ID, and IDA in social, cultural, and, too often, healthcare environments that normalise their plight and prolong their misery.  

If pregnancy occurs, they are at increased risk for preterm labour and peripartum haemorrhage; this latter event may be life-threatening, and the baby may have grown in an iron-deficient environment that places them at risk for developmental impairment.  

Action needs to be taken, and we hope that the contents of this supplement may serve in some way to function as an agent for change.

– Prof Hilary Critchley and Prof Malcolm Munro, Chair and Past Chair of the FIGO Committee on Menstrual Disorders and Related Health Impacts 
Supplement overview 
This supplement provides a comprehensive overview of the links between heavy menstrual bleeding, iron deficiency and iron deficiency anaemia, and explores their effects on women's health and impacts on pregnancy and neonatal development. Papers in the supplement are as follows:  
Heavy menstrual bleeding, iron deficiency, and iron deficiency anemia: Framing the issue 
Iron deficiency, pregnancy, and neonatal development  
Reflections on access to care for heavy menstrual bleeding: Past, present, and in times of the COVID-19 pandemic 
Contemporary evaluation of women and girls with abnormal uterine bleeding: FIGO Systems 1 and 2 
Therapeutic options for the management of abnormal uterine bleeding  
Identification of women and girls with iron deficiency in the reproductive years 
Optimizing diagnosis and treatment of iron deficiency and iron deficiency anemia in women and girls of reproductive age: Clinical opinion 
Overview of iron deficiency and iron deficiency anemia in women and girls of reproductive age 
The importance of iron deficiency in pregnancy on fetal, neonatal, and infant neurodevelopmental outcomes 
Evidence gaps for the global problem of iron deficiency and iron deficiency anemia in women and girls of reproductive age