PPIUD added to Kenyan Nursing Scope of Practice
FIGO's Postpartum Intrauterine Device Project (PPIUD), has celebrated a landmark achievement in partnership, advocacy and sustainability: the inclusion of postpartum IUD counselling and insertion in the Kenyan Nursing Scope of Practice, a policy and regulatory document which defines the limits of care and legal boundaries of nursing and midwifery practice in Kenya.
Image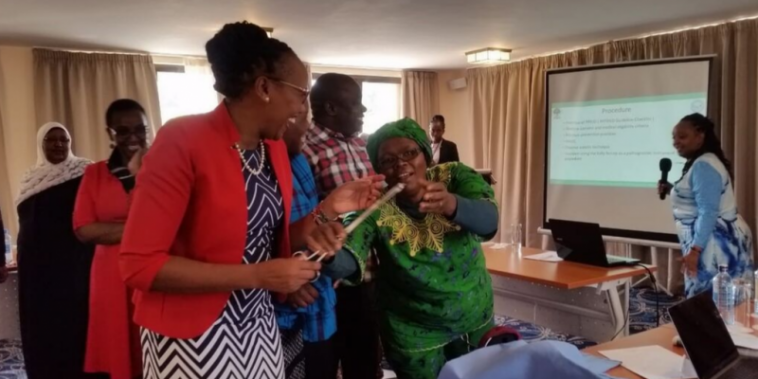 Committed to improving long-term access to family planning in Kenya, our PPIUD project has been run in collaboration with our National Member Society, the Kenya Obstetrics and Gynaecological Society (KOGS), since 2013. Together we have advocated for the integration of postpartum family planning (specifically copper IUDs) into routine practice.
At the heart of the projects success has been a partnership with the Nursing Council of Kenya (NCK). Together we have been able to expand access to training in the provision of postpartum IUD services to the broadest range of providers
Dr Elly Odongo, Consultant Obstetrician & Gynaecologist, Specialist Gyn-Oncologist, and President of KOGS highlights:  
The Kenya Obstetrical and Gynaecological Society is committed to long-term engagement with nurse-midwives in Kenya to produce transformative and sustainable change, rather than short-term relief, in the provision of family planning services.

Through the establishment of a nurse-doctor working partnership for family planning, and the review of the Scope of Practice, we believe this collaboration will facilitate capacity-building among nurses in Kenya. It will enable them to organise and engage in advocacy activities, whilst working together with OBGYNs to actively contribute to the provision of long-acting reversible contraception (LARCs).
A sustainable approach to postpartum family planning
Institutionalisation of training and practice in postpartum IUD provision has been a key goal for the project, and the incorporation of services into routine practice is a huge achievement, ensuring the sustainability of the initiative beyond FIGO's funding.
Winnie Shena, Nurse-Midwife, Community & Health System Specialist and Chief Executive of KOGS continues:
By anchoring postpartum IUD training and practice into the nursing scope of practice, sustainability of the project is assured. Training institutions will provide training to their trainees, and nurse-midwives will be able to provide counselling and insertion as part of routine practice in hospitals. They can also mentor other cadres.

As the most accessible health profession in the country, the nurse-midwives are well positioned and empowered to address the unmet need for post-partum family planning.
Post-Partum Family Planning
The inclusion of postpartum IUD counselling and insertion into the Kenyan Nursing Scope of Practice is an exciting step for post-partum family planning options in Kenya. An IUD can be inserted immediately after the delivery of a baby and used effectively for up to 10 years, with easy removal and immediate return to fertility if requested.
As many women may otherwise have limited contact with the healthcare system, the post-partum period provides an excellent opportunity to offer family planning services to women.
Said Edna Tallam Kimayio, CEO and registrar of the Nursing Council of Kenya,
For the successful institutionalisation of postpartum IUD services, a conducive regulatory and legal environment is needed, within which nurse-midwives can reach the populations that need it most. It was imperative to align the Nursing Scope of Practice to the emerging evidence and the ever changing practice of healthcare.

The Nursing Council of Kenya appreciates the role nurse-midwives in Kenya play in the provision of safe and proficient family planning services. This will reduce the unmet need and missed opportunity for family planning, consequently averting adverse maternal and neonatal outcomes".

FIGO will continue to work in partnerships, to enable capacity building, strengthen implementation and encourage progression towards closing the unmet need for access to modern contraception.