#BreakTheBias: Fulfilling adolescents' right to access abortion and contraception
Ahead of this year's International Women's Day, with the theme #BreakTheBias, we spoke to the Chair of FIGO's Committee on Contraception and representatives of FIGO's Committee on Safe Abortion. We discussed the discrimination and barriers faced by many adolescents and young people in accessing contraception and abortion services, and what needs to be done to ensure that they can claim essential reproductive rights.
Image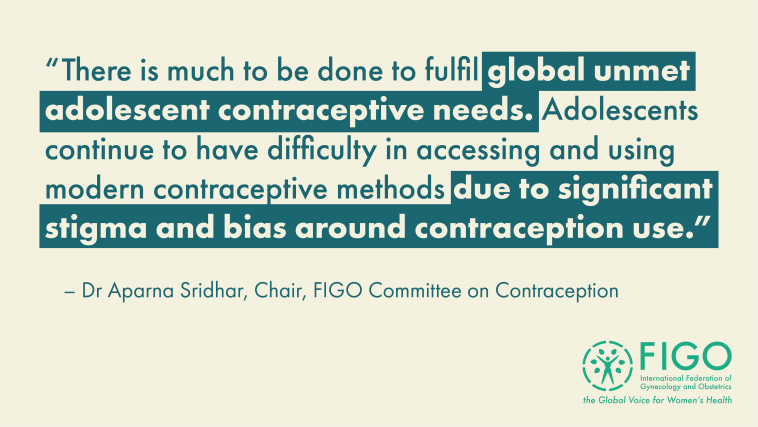 Adolescents often face a range of barriers when accessing abortion services and contraceptives. These barriers prevent them from making decisions about their reproductive lives and fulfilling their human right to bodily autonomy and access to health care. 
Contraception stigma for adolescents 
According to the UNFPA, adolescents have higher rates of uninentended pregnancies than any other age group, and 57 per cent of them have an unmet need for contraception. In low- and middle-income countries, 20 million adolescent women and girls (aged 15–19) have an unmet need for contraception.  
Dr Aparna Sridhar, Chair of the FIGO Committee on Contraception, highlights that there "is much to be done to fulfil global unmet adolescent contraceptive needs". She explains that adolescents continue to have difficulty in accessing and using modern contraceptive methods due to significant stigma and bias around contraception use.  
What perpetuates the stigma and bias is a web of inter-related factors from the individual to the global level with complex local cultural dynamics that are unique to each country and region. Poor access to comprehensive sexuality education and lack of respectful provision of modern contraception are usually the main factors. 

It is further complicated by stigmatising attitudes of parents, teachers, and key influencers as well as fear generated by misconceptions about the usage of modern contraceptive methods. 

– Dr Aparna Sridhar, Chair of Committee on Contraception 

Barriers to safe abortion access for minors  
Dr Teresa Bombas, Chair of the FIGO Committee on Safe Abortion, underlines that "in countries where abortion is illegal or inaccessible, the rates of unsafe abortions and resulting maternal mortality and morbidity are high. This is particularly relevant to vulnerable groups, including adolescents". 
In fact, according to the World Health Organization, of the estimated 5.6 million abortions that occur each year among adolescent girls aged 15–19 years, 3.9 million are unsafe, contributing to maternal mortality, morbidity and disability worldwide. 
In cases where abortion is legal, there are still many barriers for adolescents to access this essential right. The Center for Reproductive Rights underlines that cost, stigma, lack of confidentiality, and misinformation resulting from inadequate sexuality education all contribute to limiting an adolescent's access to safe abortion.  
Due to their lack of economic independence, adolescents can be financially or even sexually abused in the process of seeking an abortion.  Even in settings where abortion is partially legalised, adolescents can face the brunt of rejection and stigma because societies still underestimate their capability of self-determination and disrespect their right to confidentiality. 

– Dr Laura Gil, Vice-Chair of the Committee on Safe Abortion 
According to Dr Bombas, one key barrier that remains in countries where abortion is legalised is the need for parental consent for adolescents seeking an abortion. 
While we have seen a progressive trend towards the liberalisation of abortion laws across the world, there are still restrictive components for adolescents, such as requiring parental consent for minors to access abortion services. For instance, below the age of 18, parental consent for an abortion is required in the vast majority of European states. 

– Dr Teresa Bombas, Chair of the Committee on Safe Abortion 
Image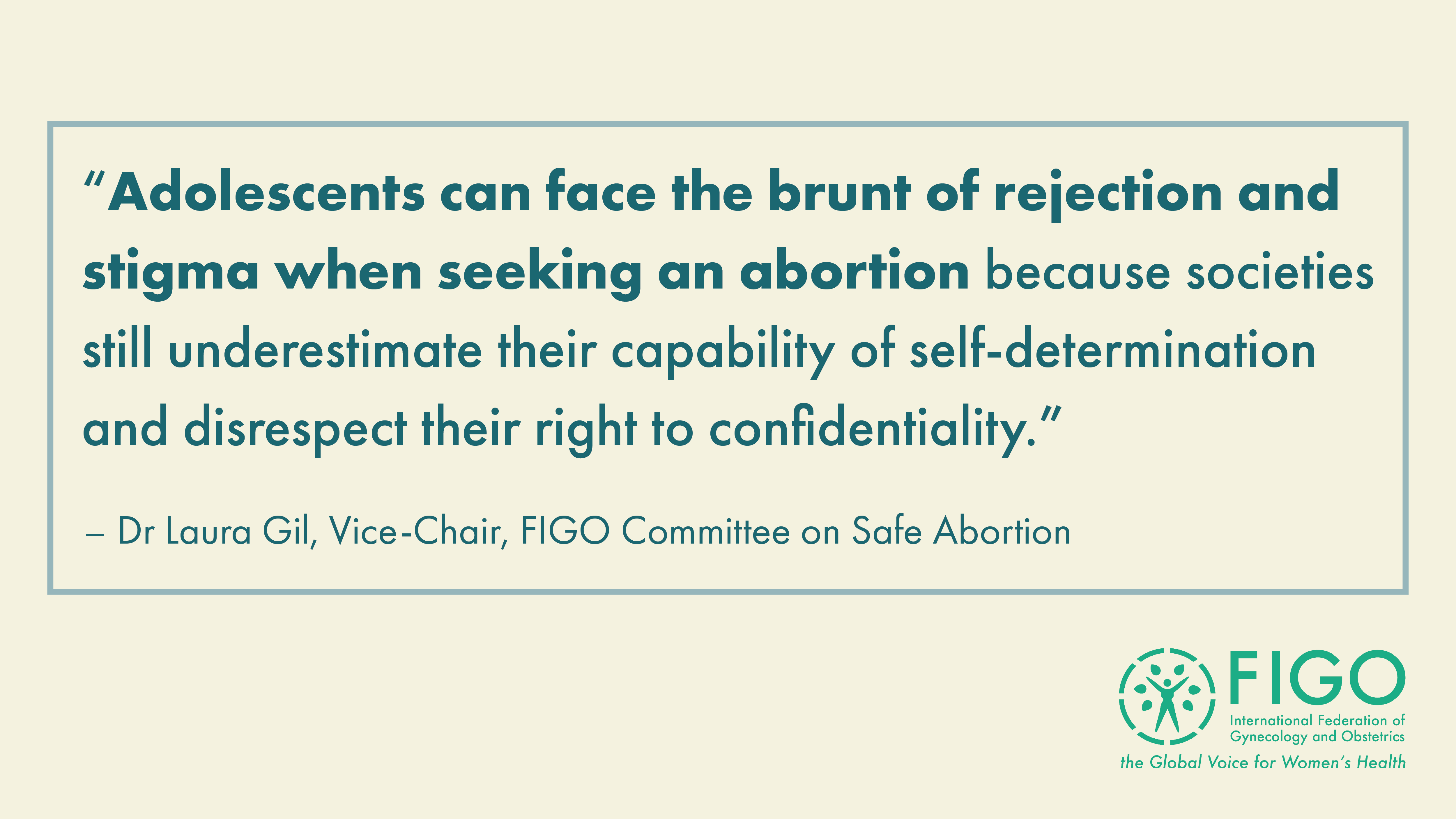 Reducing stigma and improving adolescents' access to their sexual and reproductive health and rights 
Dr Bombas stresses that "we must keep in mind that access to sexual and reproductive health care is an essential right for all, including adolescents." Dr Gil reinforces this point by stating that "we need to regulate abortion as a health service and not as a crime, so that we have clear rules and an obligation to protect and facilitate adolescents' access". 
Dr Bombas, Dr Gil and Dr Sridhar agree that education is a key component to reducing the stigma related to contraception and abortion globally.  
Dr Gil underlines the importance of adolescents receiving comprehensive sexuality education, "so they know what their options are regarding initiating a sexual life, avoiding and facing an unwanted pregnancy and recognising when they are being subjected to abuse – including institutional abuse, such as preventing them from accessing sexual and reproductive care". 
We can address abortion stigma by improving access to accurate information regarding abortion across society, including abortion and contraception as key topics to address in schools and universities globally, and including abortion in the curricula of medical schools. 

– Dr Teresa Bombas, Chair of the Committee on Safe Abortion 
Dr Sridhar highlights four key avenues for action against contraception stigma: 
Education: Providing human rights-based education in line with the AAAQ Framework on Availability, Accessibility, Acceptability and Quality of healthcare. Educational efforts should be focused on addressing the misconceptions among key influencers (health care providers, parents, teachers, and the internet). 
Global research: Developing and using research that addresses the challenges to contraception access and use. 
Advocacy: Working with national and regional organisations to address the barriers surrounding contraception, and influence law makers to change policies that prevent the provision of contraceptive services. 
Capacity building: Building a network of health care partners to work towards a common goal of contraceptive education and provision.