Defining a maternal near-miss
Image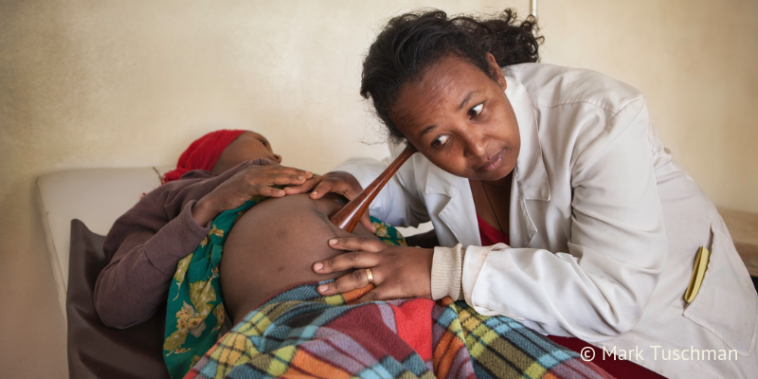 When a woman nearly dies but survives a complication during pregnancy, childbirth or within 42 days of termination of pregnancy, her case is defined as a 'maternal near-miss'.
The World Health Organization (WHO) identifies a maternal near-miss using the signs of organ dysfunction that follow life-threatening conditions. Expanding the definition could make the indicator much more useful for improving maternal health outcomes in low-resource settings.
In 'Rethinking the definition of maternal near‐miss in low‐income countries using data from 104 health facilities in Tanzania and Uganda,' published in FIGO's academic journal IJGO, a modified definition reduced the threshold for blood transfusion units and included severe abortion complications and antepartum haemorrhage as screening questions.
The study found that this changed both the maternal near‐miss incidence and the mortality index when compared to the WHO definition – as expected – but made the estimates between the countries more similar.
This is a valuable insight for maternal health quality improvement, explained Dr Claudia Hanson, who led the study:
"Improving data and measurements of quality of care are essential to address the high burden of maternal mortality and morbidity.

We learned through this study that in low-resource settings, the criteria of management might be more appropriate to define the severity of a case, rather than organ-dysfunctions. Even one or two blood transfusions indicate severe conditions.

The inclusion of additional screening questions, such as of abortion-related complications, improves completeness and usefulness of the near-miss indicator. We would like to encourage more research and conceptual thinking, because a well-defined indicator of morbidity, such as the near-miss concept, is so much needed to evaluate and monitor progress in maternal health in the most marginalised populations."
Every day approximately 830 women die from complications of pregnancy and childbirth, and the majority of these deaths are preventable. For every woman who dies, an estimated 20 survive but go on to experience the consequences of related morbidities, with long-term effects on their mental and physical health.
Marginalised, poor and vulnerable women are most at risk, and there is ongoing debate about the need to adapt maternal health reporting methodologies to their specific contexts.
In low‐income settings, lack of access to health-worker training and limited or irregular availability of supplies means that reporting of signs and symptoms of maternal complications is not always complete. Interventions such as blood transfusions are severely constrained.
In these contexts, the current definition of maternal near-miss might fail to catch many severe cases.
Adapting the classification could help identify more women at risk.
The IJGO study used data collected from more than 20,000 women with maternal complications, as part of a FIGO-led evaluation of a Helping Mothers Survive Bleeding after Birth trial, part of our ongoing commitment to address unacceptable levels of maternal and neonatal mortality globally.
Said Jessica Morris, Senior Project Manager,
"Women across the globe are dying from preventable complications during pregnancy and childbirth, and FIGO has a real opportunity – and a responsibility – to learn from OBGYNs working in vastly different contexts. We are committed to supporting our National Member Societies with the clinical guidance, evidence and advocacy tools which can help them improve maternal outcomes in their respective countries."
For more information about FIGO's work to reduce maternal mortality from postpartum haemorrhage and other preventable complications, click here.