FIGO at 65: our global commitment
This month, FIGO celebrates 65 years as a federation committed to improving the health and wellbeing of every woman worldwide.
Image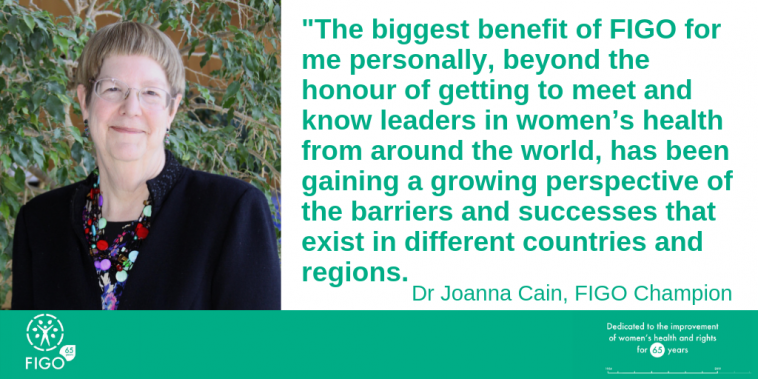 Internationally renowned OBGYN, teacher, and researcher in women's health and gynecologic oncology, and long term FIGO champion, Joanna M. Cain, MD shares her reflections:
It has been over twenty-five years since I first became involved in FIGO, and throughout this time we have witnessed some great successes in women's health and rights.
The biggest benefit of FIGO for me personally, beyond the honour of getting to meet and know leaders in women's health from around the world, has been gaining a growing perspective of the barriers and successes that exist in different countries and regions. Benefitting from this exchange of information allows all FIGO Members, from throughout 132 countries, to advocate for needed changes, support, and develop new methods to tackle issues like maternal mortality and cervical cancer that would not exist without this collaboration.
There is now a global recognition that reproductive rights, and the right to health, is inextricably linked with the economic and human rights of girls and women. This has facilitated FIGO's growth and created an understanding of the ethical and rights obligations that Obstetrician/Gynecologists have in the care and advocacy for women globally.
The FIGO Committee for the Ethical Aspects of Human Reproduction and Women's Health, of which I was Chair for two terms (1997-2003) grew out of this development. Guidelines and documents have set a baseline for discussion and training that assists in advancing women's rights and medical professional standards globally.  These carefully considered and phrased documents have been used to advance reproductive rights in courts, as well as medical settings.
Maternal mortality as a global, ethical, and reproductive rights issue, has now been accepted as a critical issue in the international community. Global efforts amongst both policy and health professionals, led to a reduction in maternal mortality of 44 percent between 1990 and 2015 under the Millennium Development Goals. This has now translated into set targets within the 2030 Agenda for Sustainable Development to reduce the global maternal mortality ratio to less than 70 per 100 000 live births.
FIGO's Gynecological Oncology Committee has provided continued and growing global leadership for cancer staging, and the incorporation of rapidly growing research into care documents that can be tailored to every resource setting.  In 2018 FIGO's Global Declaration on Cervical Cancer Elimination was signed in front of 11,000 OBGYNs from around the world, aligning FIGO's expertise and worldwide network to the call for action Dr Tedros Adhanom Ghebreyesus, WHO Director-General, gave us during our Official Side event at the 71st World Health Assembly.
As such, FIGO has been a major influence on international standards and organisations throughout our history. This has ensured that FIGO Members are frequently included in proving guidance into the work of WHO, IARC, and other international cancer bodies. It has been my pleasure to be involved, including participating as former Chair the WHO Cervical Cancer Control committee, and continued contributor to the WHO Cervical Cancer Working Group for a comprehensive approach to elimination.
The triennial FIGO World Congress, of which I was Chair of the Scientific Program Committee in 2015, and past Chair and Gynecological Oncology Track Leader at last years Congress in Rio, has brought together a larger and broader community of women's health providers. Together we learn from other perspectives and experiences and create ongoing collaborations that will continue to improve the health of women and girls.
Sadly, the rights and health of women and girls remains perilous throughout the world, while there have been gains, there have also been losses in many environments. Global migration pressure from war and the climate crisis have exacerbated the underlying discrimination and economic suppression of women and girls, as well as putting reproductive rights and access at risks. 
Ensuring FIGO continues to comment on global debates and policy developments around ethics, rights and health for all women, particularly as it is played out in important arenas such as reproductive health access, maternal health, and elimination of cervical cancer, will be a critical role for FIGO and all the member societies in the years ahead.
Professor Joanna Cain works at the University of Massachusetts Medical School.
Over the years she has made a significant contribution to FIGO, including Past Chair of the Scientific Programme Committee for FIGO, Past Chair FIGO Committee for the Ethical Aspects of Human Reproduction and Women's Health (1997-2003) and Past Chair FIGO sub-Committee on Cervical Cancer Control and member FIGO Oncology Committee