Finding the forgotten: obstetric fistula
An obstetric fistula surgeon in DR Congo working to make Health For All a reality for women forced to the margins.
Image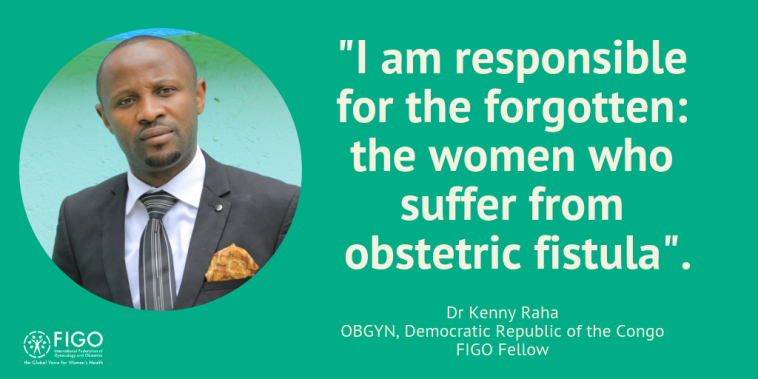 More than one billion people volunteer globally – the equivalent of over 109 million full-time workers, according to the UN Volunteers' 2018 report, State of the World's Volunteerism.
Resilient communities are healthy communities, and FIGO members around the world make a critical contribution. On the frontline of women's health in 132 countries, they donate their time, expertise, and platforms to improve the physical, mental, reproductive and sexual health of women throughout their lives.
We are proud to celebrate their contributions.
Dr Kenny Raha is an obstetrician-gynecologist and FIGO Fellow. One of more than 55 surgeons in the FIGO Fistula Surgery Training Initiative, he has 'the hands and the heart' to perform the complex repair surgeries that can give women with obstetric fistula back their lives.
What volunteer activities are you currently involved in?
I am responsible for the forgotten: the women who become sick because of their context, their poverty - regardless of the fact that in this day and age, their conditions are preventable and can often be repaired.
Luckily at our hospital, Panzi, in eastern DRC, we have a mobile clinic programme which helps us to travel across the country to help women in need.
Why is this woman's health issue important to you?
In the African context, women are at the centre of the family. She's the one who takes care of everyone: children, spouse, the whole community. Unfortunately, she is also the one exposed to a wide range of health problems, from maternal mortality to obstetric fistula, gynaecological cancers, even violent rape. We see all of this in my country, while women are left to live, year after year, forgotten and waiting for solutions that would allow them to survive.
What motivates you to volunteer?
I'm motivated by the suffering and misery women endure from treatable illnesses, getting no treatment at a time and place when the whole wide political world is advocating 'health for all'.
What has been your biggest accomplishment in this role?
As a surgeon, I have led several mobile surgical clinics to reach women in rural areas. I have assisted many, across 13 of our 24 provinces, at 55 sites. And to this date, I have not given up.
The biggest satisfaction has been to bring joy to women who have been suffering from obstetric fistula in the DRC, and who have been waiting so long for treatment; in some cases, more than 30 years.
How has your life been shaped by other volunteers?
My life has been shaped by the courage of volunteers like Prof Denis Mukwege, who faced and brought to light the suffering of women in our country. We are fighting the same battle alongside him, in conditions that are not favourable towards helping others.
This interview  appeared as part of a wider series celebrating FIGO volunteers. Find more stories here.