Migration and women's health
Image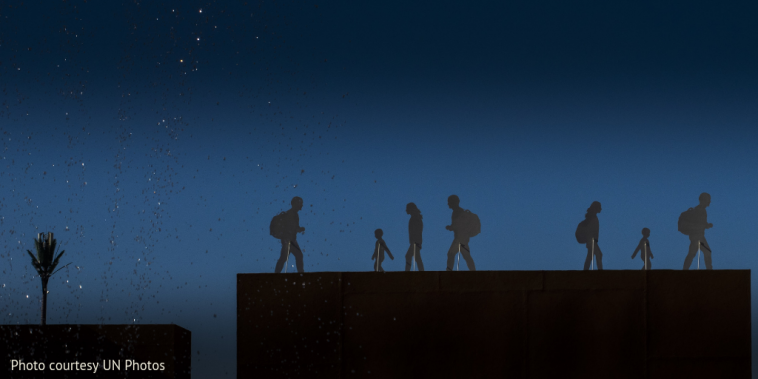 There are more than a quarter of a billion international migrants, and the number of refugees and people displaced by war and conflict, natural disasters, and climate change is at the highest levels ever recorded.
Dr Faysal El Kak is Vice President of FIGO and President of FAGOS (Federation of Arab Gynecology Obstetric Societies). His village in Lebanon is currently home to more than 20,000 people displaced by the Syrian conflict.
Dr El Kak spoke to FIGO about the growing, social, educational, community consequences of this crisis – and of course, consequences for women's health and wellbeing.
Why is migration a critical public health issue?
Migrants and refugees are people like us who, under drastic natural or human-made disasters, have suffered grave losses: beloved ones, life-time possessions, and family networks. They must leave behind shattered homes, dear memories, and familiar neighbourhoods - a whole life made and then displaced to strange lands and different communities, seeking safety and shelter.

Their whole livelihood is interrupted - and more so their health care.

Health takes a lower priority before food and protection. Medications run out, emergency visits are not available, and attending to pregnancy and childcare simply does not happen. This is a time when most health indicators suffer, diseases worsen, and needs escalate.
What are some of the particular challenges women face in migration?
Women will need dignity kits, skilled birth attendance, birth control, and protection from violence. Children will need vaccinations, protection, nutrition, and warmth, among other things. The toll of Non-Communicable Diseases (NCDs) will put all refugee health in jeopardy.

This is a time when health as a human value suffers the most – and it is our humanitarian duty to alleviate pain, reduce harm, and promote wellness.
What motivates you to volunteer as part of the ongoing relief effort?
I come from a place where I witnessed deprivation, marginalisation, conflicts and wars, dire livelihood circumstances - and lately, tens of thousands of refugees around and among my homeland streets and houses, on a scale I've never seen before in terms of numbers, needs, and dysfunction.

In the spring of 2011, a few months after the eruption of the devastating Syrian crisis, I called a journalist friend, telling her I want to start a voluntary initiative to support Syrian refugees: something needed, something manageable. After a long session of brainstorming, we came with an idea of an initiative to provide refugees with winter packages for warmth.
What is the role of the OBGYN community?
I believe when physicians reach out to those in the shadows and use their experiences, skills, and compassion, medicine and healthcare will be in the right place: at the core of our humanity.

You volunteer because people need you, and because you can make a difference. I am driven to serve those who can't afford, can't reach, can't access, and can't demand healthcare.
What work have you been involved  with to support refugee health and wellbeing?
Our initiative was called 'Dafa Afa' and it means 'warmth is wellness'. It was amazing how people responded, with humble donations for that winter. Funds collected went to buy stoves and fuel coupons to keep families warm inside their tents, in the cold of settlements by the Syrian-Lebanese border. Hundreds of families were able to stay warm thanks to 'Dafa Afa'.

This humanitarian initiative continued for five years, supporting refugees in their harshest times. Through our healthcare and health advice work we have been able to run a weekly clinic in my village. We have a large number of refugees, estimated at around 20,000 people, and we're able to provide some services, counselling, and free medications.
FIGO welcomes the Intergovernmental Conference to Adopt the Global Compact for Safe, Orderly and Regular Migration (GCM) which took place in Morocco this month, with United Nations member states negotiating the first ever intergovernmental approach to international migration.
A nonbinding and fragile consensus, the GCM recognises "the particular needs and vulnerabilities of migrant women…which may include assistance, health care, psychological and other counselling services, as well as access to justice and effective remedies, especially in cases of sexual and gender-based violence."
FIGO's vision is a world where all women achieve the highest possible standards of physical, mental, reproductive and sexual health. This must hold true wherever women live - and in a world of increasing migration, including in the healthcare community itself - wherever they are forced to go.