New FIGO Divisions: advancing women's health through collaboration
Image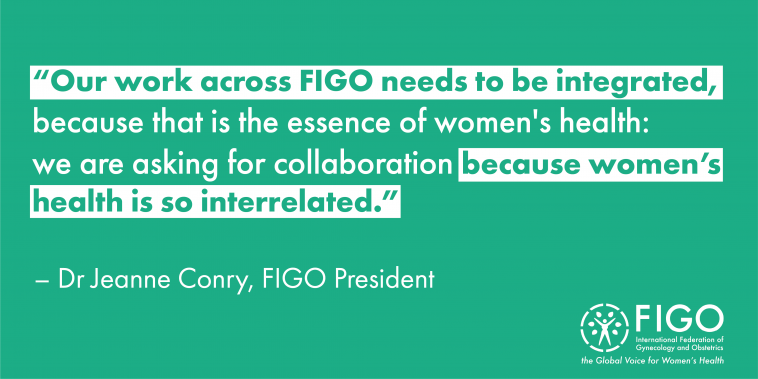 FIGO Divisions: coordinating work in OBGYN  
Committees have been an essential component of FIGO's structure for decades, bringing together experts from our member societies with other health care professionals to focus on specialist areas of obstetrics and gynaecology.  
Concentrating on education and research implementation, committees play a key role in improving OBGYN health care around the world through the provision of clinical leadership and guidance.  
With the introduction of divisions into the committee structure, FIGO seeks to improve collaboration within the organisation as they coordinate the work of committees by overseeing plans and activities and identifying opportunities for partnerships. 
The division structure is organised around three overarching themes: Benign Surgery, Maternal and Newborn Health, and Sexual and Reproductive Health and Wellbeing. Of FIGO's 17 committees, 11 sit within these three divisions, working collaboratively across essential areas affecting women's health. 
Dr Jeanne Conry, FIGO President, highlights:  
It was apparent that committees in most instances were working in silos and not communicating with each other about their work on a regular basis. The division structure places committees that share a common base into a structure founded on collaboration, communication and integration. 

We expect that divisions will facilitate improved decision-making because they offer a forum through which the committee members can discuss, debate and decide on the important steps to improve and deliver care. 
Advancing women's health through collaboration 
Collaboration is at the core of FIGO's work and communication between FIGO Committees is critical to ensuring that the organisation achieves its strategic goals for the next decade. As put by Dr Conry, "Our work across FIGO needs to be integrated, because that is the essence of women's health: we are asking for collaboration between the committees because women's health is so interrelated".  
For the Division of Benign Surgery, Director Dr Juan Diego Villegas argues that "all efforts must be aimed at strengthening the cooperative and synchronised teamwork of the committees. We must join forces and work in a coordinated manner for the wellbeing of patients who require surgical procedures." 
In the context of his area of expertise, Professor Bo Jacobsson, Director of the Division of Maternal and Newborn Health, explains: 
My division's focus is to grow the competence of the different committees, to bring them together and to make sure they go in the same direction. This will allow us to make progress with a unified message, and a unified work. 

So much of FIGO's work is done through our member societies around the world, and therefore, it is vital to ensure that we have a common message. It's so important for FIGO to be their global and collaborative voice for women's health.
This collaboration will allow FIGO to cover more ground to advance women and girls' health and wellbeing worldwide. With a focus on reproductive rights in low and middle-income countries (LMICs), Dr Ivonne Diaz, Director of the Division of Sexual and Reproductive Health and Wellbeing, highlights that her division will cover a wide array of issues, including: 
supporting member societies to promote legal abortion 
preventing infertility, endometriosis and pelvic infections 
advocating for the use of contraception as an approach for the prevention of menstrual health disorders and unsafe abortions 
advancing education on sexuality and sexual dysfunction  
Image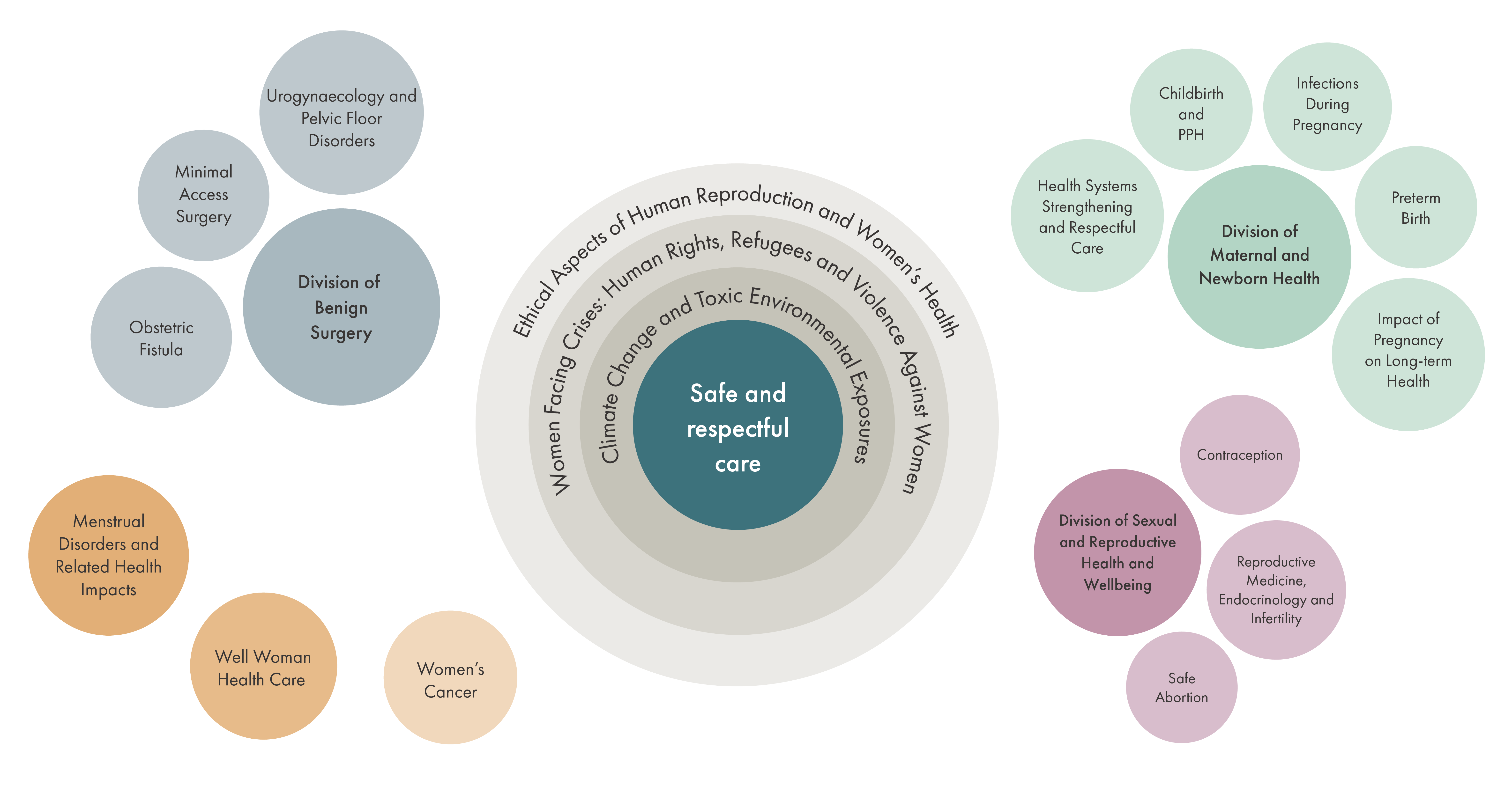 Responding to the challenges faced by women and girls worldwide 
Dr Diaz underlines that "the Division of SRHW carries out the essential work of defending women's human rights" around the globe. 
A woman is free to make decisions for herself and to access her reproductive rights as human rights. Women must be able to decide when – and if – they want to get pregnant and how to avoid a pregnancy. It is their right to make choices for a safe reproductive life. 

This division will work to empower women to make conscious, healthy and respectful choices about their sexuality, relationships and reproductive lives, including when, if and how they wish to become pregnant.

– Dr Ivonne Diaz 
Ultimately, the key objective of adding divisions to FIGO's structure is to ensure that the organisation is able to respond to the many challenges faced by women and girls globally through knowledge production and sharing. 
Women around the world, and much more in LMICs, are underserved and have difficulties accessing adequate, timely and quality health services. This is especially true when talking about benign gynecological surgery.  

LMICs have to prioritise scarce resources in obstetric care and often neglect the care of patients who require benign gynaecological surgery, which has a great negative impact on their quality of life. This division seeks to make these difficulties visible and show both doctors and patients the options that exist: the right procedure, at the right time and by the right professional. 

– Dr Juan Diego Villegas 
The Division of Maternal and Newborn Health recognises that health systems strengthening is central to the implementation of everything committees will be recommending to improve women's health, and it is key to ensuring that FIGO initiatives are delivered to the most vulnerable and disadvantaged populations. In addition, COVID is one of the main challenges it aims to address, as it considers it to be "one of the lowest hanging fruits".  
We can do so much for women and children's health, and make a big difference, by using the window of opportunity that pregnancy represents for the promotion of health of both mother and child. Responding to COVID in the context of pregnancy is a key example of the types of interventions we can make.

– Professor Bo Jacobsson 
Find out more about FIGO's Divisions and Committees by visiting our dedicated pages.