Research Supports Advocating for Safe Abortion
FIGO's Advocating for Safe Abortion Project is supporting ten National Member Societies in Benin, Cameroon, Ivory Coast, Kenya, Mali, Mozambique, Panama, Peru, Uganda and Zambia to advocate for safe abortion to the full extent of the law in their national contexts.
Image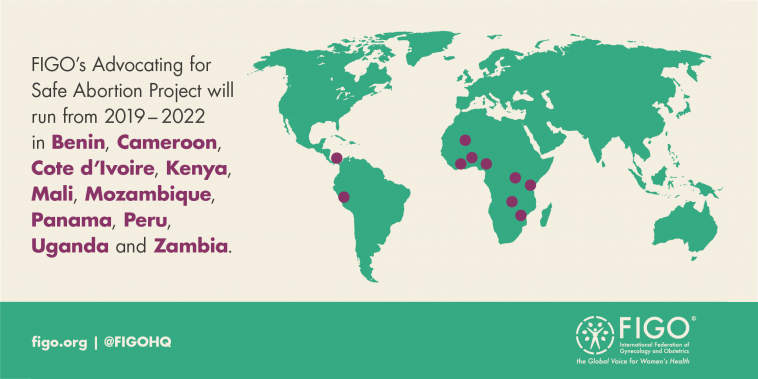 New research in ten countries reveals the challenges and opportunities for FIGO National Member Societies to advocate for safe abortion.
Each year, 25 million women and girls around the world undergo unsafe abortions, contributing to an estimated 13 percent of maternal mortality and resulting in long term injuries and infertility for millions more. These figures are unacceptably high and represent an avoidable, but often neglected, public health and women's rights issue. 
FIGO's Advocating for Safe Abortion Project is supporting ten National Member Societies in Benin, Cameroon, Ivory Coast, Kenya, Mali, Mozambique, Panama, Peru, Uganda and Zambia to advocate for safe abortion to the full extent of the law in their national contexts.
To design the project and tailor it to each country, KIT Royal Tropical Institute undertook an in depth needs assessment in each country. Conducted in 2018, the research comprised of a desk study, key informant interviews and stakeholder workshops.
The results have recently been published in the International Journal of Gynaecology and Obstetrics and provide a rich picture of the multiple opportunities and challenges to advance sexual and reproductive health and rights through a greater access to safe abortion across the ten countries.
Shared challenges
Abortion stigma and attitudes
Stigma around the topic of abortion, and more broadly sexual health and family planning, raises a barrier for women to access safe abortion. Stigma is embedded at the individual, community, organisational and political level, and in many cases is a stronger barrier than the legal and political context. Attitudes to providing abortion also varies among National Society members, who at times perpetuate the same stigma that is held by the wider society.
Legal restrictions, and gaps in implementation
Except for Mozambique where abortion is legal on request, the ten countries have either semi-liberalised or restrictive legal frameworks. However, more liberal laws do not necessarily translate into improved access. Complicated and lengthy procedures, non-alignment of the law with the penal code, and a lack of guidance and training for healthcare providers all combine to prevent access to care.
'Without an implementing decree the law is not complete. The decree gives the details of the implementation. The decree describes who intervenes and it allows to know where one can put their feet or not.' (Policy Maker, Mali)
Political and anti-choice opposition
In many contexts, the development and dissemination of the guidance and resources needed to implement the law depends on the political will of key ministries. In Uganda for example, the standards and guidelines for providers have been withdrawn after political intervention, leaving a policy gap. The strengthening of the international anti-choice movement, including through the implementation of the global gag rule, also presents challenges.
'The current environment is hostile. The new team in the ministry decided to reverse our reproductive health policy.' (Gynaecologist, Uganda)
Service delivery environments
In all ten countries, the availability of safe abortion services is limited and often concentrated in capital cities with a treatment fee. This means for women in rural areas, or who cannot afford travel or treatment costs, the services are out of reach.
Opportunities and strengths
The potential influence of national societies in advocacy
ObGyns are trusted voices in policy making and setting best practice, and their advocacy can be powerful. In several countries outside of this project, including Ethiopia, Ireland and Uruguay, ObGyn societies have successfully supported abortion reform. A barrier to them having a stronger voice in the Project countries was sometimes a lack of organisational capacity including support from administration, financial and communications staff, as representatives are often combining their role in the society with busy clinical schedules. FIGO's project therefore includes efforts to build capacity in these areas as well as technical advocacy skills.
Civil society strengthening and alliance building
The research found that the ten National Societies were also well placed to support existing, or new, civil society networks for advocacy. Joining forces with others working on sexual and reproductive health and women's rights would strengthen advocacy efforts and is a priority of the Project in each context.
'We have partners with whom we have good relations, for example the society of midwives and the paediatricians… framework agreements with two NGOs… the Ministry of Health. It would normally be for decision making that we are being called.' (Gynaecologist, Cameroon).
Research and technical expertise
The ten National Societies each have members with strong research skills, and experience engaging as technical advisors on safe abortion, for example developing national guidelines. In all contexts there remain data gaps on abortion, including the prevalence of safe abortion and maternal deaths resulting from unsafe abortion. Societies involved in the Project are well placed to advocate for, and work to obtain better quality data, which will in turn support better policy making.
The needs assessment research was used to inform the design of FIGO's Advocating for Safe Abortion Project, which will run from 2019-2022. FIGO will support the 10 National Member Societies to deliver their project as well as engage in international advocacy efforts.