What is quality family planning counselling?
FIGO joins the family planning community at the World Health Organization to address why there is still no consensus on how best to deliver and monitor quality contraceptive counselling.
Image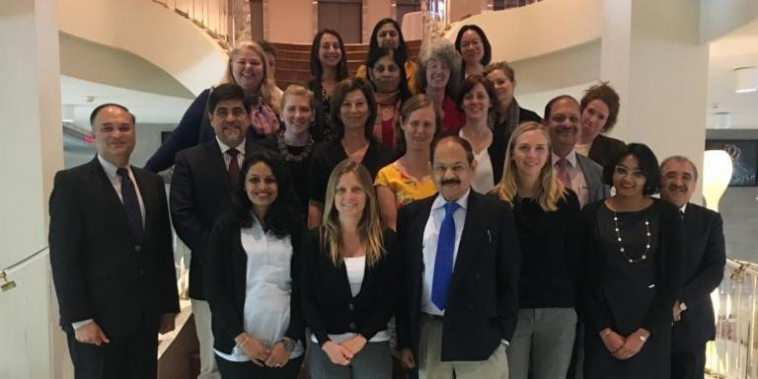 Contraceptive counselling – the provision of information and assistance in choosing a method that meets a woman's needs and preferences, which FIGO prioritised in our postpartum family planning programme – has radical potential to increase use of modern methods and reduce discontinuation rates.
This week I attended the World Health Organization (WHO) Family Planning Accelerator Project think tank meeting in Geneva on improving family planning counselling on modern methods.
As an upcoming systematic review from WHO makes clear, there is still no consensus on how best to deliver contraceptive counselling and ensure universal access to sexual and reproductive healthcare services.
In spite of many initiatives to scale up access and counselling training, an estimated 214 million women in low-resource settings still have an unmet need for modern contraceptives. We need to ask some hard questions: is the quality good enough? What needs to be improved? Do we even have an agreed definition of what quality counselling is?
Across the family planning community, we all ask why it is important. The ability to choose if and when to have children has far reaching benefits not only for women themselves but also for their families and the communities in which they live in.
These benefits have been recognised in the 2030 Agenda for Sustainable Development, hence why family planning sits so highly. Without information, women risk being locked into a cycle of poverty which may be difficult to get out of. Birth spacing gives women a chance to be healthier, for their children to be healthier, and possibly to improve the health of generations to come.
In Geneva we discussed four key issues:
existing evidence for the effectiveness of counselling strategies for modern methods
developing a consensus definition of quality family planning counselling
how to monitor quality of counselling, with realistic indicators that could work for Health Management Information Systems (HMIS)
what research is needed to help improve the quality of counselling
While the goal of family planning counselling is clear – increased uptake of modern contraceptives – there was broad concern at the meeting that it can be hard to monitor the effects and separate the impact of poor counselling from the impact of other external and contributing factors.
Cultural norms, myths and taboos take time to change, and women are not always the decision-makers on their reproductive health. Lack of political and government support, cost of services or sheer lack of human resources are major systemic challenges.
Over the last few years, FIGO and our partners have certainly learned a lot about barriers and routes to successful family planning counselling through our postpartum IUD (PP IUD) programme with six of our National Member Societies.
We introduced counselling on postpartum family planning (PPFP) in 48 tertiary referral hospitals, tracking more than 1 million deliveries over the last three years. 
Our most important lesson sounds simple, but is one of the most complex: successful counselling needs to be context specific, using local knowledge and local partners accessing women at every point of service care. Other than multiple encounters with a counsellor, no single factor worked across all six project countries. 
As OBGYNs, advocating for sexual and reproductive health and rights (SRHR) is automatically part of our work – but we are often not the ones accessing the greatest numbers of women. Counselling can be done effectively by many different cadres of staff, and we have seen a lot of success through collaboration with nurses, midwives and in particular with community health volunteers.
We also found that in some countries employing separate dedicated counsellors in family planning was a big aid to clinicians and became essential to ensure a broad reach of good quality counselling in busy facilities. The question is whether governments recognise their worth enough to fund their continued participation beyond the reach of isolated projects.
As a clinician myself, I cannot conceive of setting up this work without a solid counselling component.
Firstly, because there are many misconceptions about IUDs that women need to discuss before insertion. But beyond counselling on modern methods, there are fundamental considerations of women's health and human rights.
There is a lot of work ahead, but one thing everyone at the meeting agreed on: contraceptive services should be universally available, accessible, of good quality and provided on the basis of non-discrimination. Every woman, wherever she is in the world, has the right to make an informed choice.