Ending fistula: FIGO presents at ISOFS
FIGO presents on progress in training enough surgeons at ISOFS, the only global conference on obstetric fistula surgery.
Image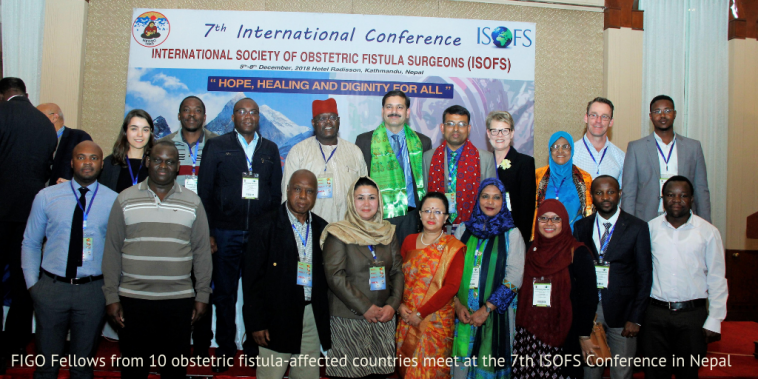 The International Society of Obstetric Fistula Surgeons (ISOFS) is a critical partner in FIGO's efforts to grow the number and capacity of fistula surgeons working in affected countries, and we were delighted to participate and present in their 2018 meeting in Nepal.
ISOFS hosts the only global conference on obstetric fistula surgery, bringing together diverse stakeholders - surgeons, allied health professionals, development and UN agencies, local and international advocates - aligned in the care of some of the world's most neglected patients.
As well as many Trainers who collaborate closely with FIGO on the Fistula Surgery Training Initiative, eighteen FIGO Fellows (fistula surgeon trainees) attended the conference, traveling from 10 countries where access to safe, timely and affordable healthcare is an ongoing challenge. This was a rare opportunity for fistula surgeons - so often working alone - to meet face to face and share best practice.
It was also a chance to reflect on how many repair surgeries FIGO Fellows have contributed to the Global Fistula Map, how many future repairs they will provide – and how far there is yet to go.
It is estimated that there are more than two million obstetric fistula patients in the world, but only a limited and insufficient number of trained, skilled fistula surgeons able to operate on them. Tragically, many women with obstetric fistula are dying of old age before they get the chance for repair surgery, a double public health and human rights atrocity that FIGO is committed to help address through our Fistula Surgery Training Initiative.
Said FIGO Senior Project Manager and fistula activist Gillian Slinger:
"It's absolutely outrageous that obstetric fistula still exists. We know that no one organisation can end it, and in a climate where resources are scarce, collaborative partnerships are key to treating the heavy burden of cases. We are fierce and united in our determination that women living with this human rights violation cannot be neglected, and are so proud of our FIGO Fellows who have the hands and the hearts to make a real difference."
Not only are there too few fistula surgeons, there is a critical lack of training opportunities for them. FIGO's Training Initiative, run in direct collaboration with international, regional and local partners, is currently oversubscribed. A significant boost in funding is needed to extend the reach of the Programme, and to take a meaningful step towards eradicating fistula.
As such, the International Day to End Obstetric Fistula, established by UNFPA, is not a day for celebration: it is a call to action for women who urgently need help. As ISOFS stressed in their Kathmandu Declaration 2018, closing the conference:
"Hundreds of thousands of women are still living with fistula, sleeping every night in wet beds, many of them in isolation from family and society, living a life worse than death. We must reinforce our efforts for fistula prevention and care, with more resource mobilisation and a focused attention on stronger partnerships, to provide the best possible care to every woman."
FIGO also attended the meeting of the International Obstetric Fistula Working Group in Nepal, chaired by UNFPA and the Campaign to End Fistula, in partnership with ISOFS and the Nepal Society of Obstetricians and Gynaecologists. This was an opportunity for frank discussion of successes, failures, and challenges, as experts worry that global momentum is waning long before every woman with fistula is reached.
Funding is a rising concern for the sector, but setting ambitious, collaborative targets linked to the Sustainable Development Goals (SDGs), may be a catalyst to mobilising resources. Following the UN Secretary-General's report at the 73rd UNGA in September, calling for intensifying efforts to end obstetric fistula within a generation, UNFPA's bi-annual status report will be published shortly. Recommendations will include that the UN Resolution be ratified again, with renewed calls for commitment.
Meanwhile the Fistula Surgery Training Initiative continues to reach new heights, with support from our Expert Advisory Group; a committed team of Head Trainers from identified Training Centres, FIGO Coaches, the HQ Project Team and lessons learned along the way. No two fistula cases are the same, nor are any two Fellows, so building a surgeon's competencies needs ongoing and creative strategies to develop skills overtime.
Multidisciplinary team training is also a rapidly growing component of the Training Programme, and FIGO receives many requests for teams to be trained in holistic care for fistula patients, along with their local surgeon.
In the coming year, the Training Initiative plans to recruit new Fellows, and teams from additional high-need, neglected countries. Coaching visits will continue, along with an increase in equipment distribution (the FIGO Specification Fistula Instrument Set, as well as head torches and other surgical essentials) and the establishment of a new Francophone Training Centre.
Obstetric fistula is finally 'out of the shadows,' as Gillian Slinger wrote in the International Journal of Gynecology & Obstetrics this year, and will not go back under any circumstances.