Think Equal: women's health, USA
Image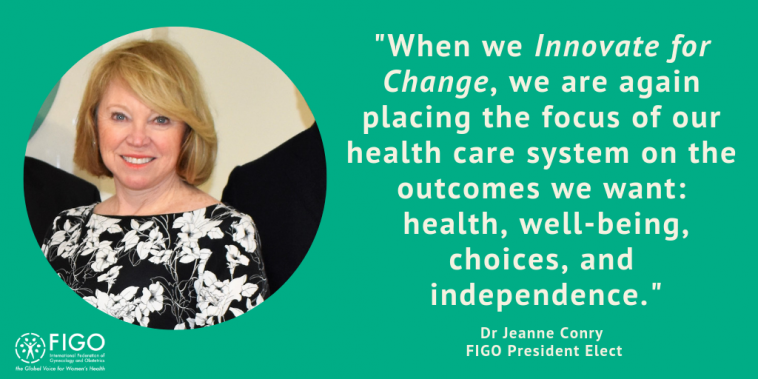 Think equal means that there is no barrier based on gender.
OBGYNs are on the frontline of women's health, and change. Accelerating progress for gender equality within the industry is still important.
I have found formal mentoring programmes, or programmes that have really outlined ideal goals around mentoring, have been successful. In fact, we have found that mentors might serve several roles, each complementary, but distinct:  
A clinical mentor pairing so that two female surgeons have a chance to work in collaboration and understand the surgical world, needs and balances.  
We have seen a "life mentor" where women who have similar life situations are paired: women with families, women in the same department/specialty, pairing women from different specialties with a goal of at least finding a female mentor (e.g. a young newly-trained orthopaedic surgeon paired with an established OBGYN).
Thinking equal, and accelerating progress for our patients is also vital.
Women lead the health choices for their family, so investing in women is an investment in this and future generations.  
Making certain that women do not have hurdles in care because of gender is key: this means access to contraception, access to surgical care, access to primary preventive care are essential. Eliminating cultural, faith-based or political barriers to scientifically-based care needs is critical. Health care needs are between a woman and her health care provider.                 
Build smart means that we need to find and model systems of care that provide access to care.
Easy care based on the patients' needs and desires, not a physician's schedule. Asking how we can design such systems, what will it take to place patients first is most important.
Healthcare systems must respond directly to the needs of women and girls. Understanding the demands in patient care (from the number of urgent appointments needed, the number of routine appointments needed, and the true emergencies faced) we can understand the true demand for patient care. Only then can we make certain that we can build an effective health delivery system.  
In the United States, one of the challenges we have faced is postpartum care. Women have sometimes viewed it solely as a 'photo-op' and have not returned. Identifying how to improve the value of such visits, or subsequent follow up has been key.  
When we Innovate for Change, we are again placing the focus of our health care system on the outcomes we want: health, well-being, choices, and independence. A mother who is nursing and providing care to her infant may find a clinical visit difficult. I had a patient who needed a follow up, and when we offered a 'Video Visit' she jumped at the chance. We did not need any lab work for this particular visit, but rather a chance to see her and speak. She did this while walking her baby in the stroller, and speaking about her overall health needs. It was a beneficial use of her time, and satisfied both our needs for providing care.
Think equal, build smart, innovate for change. Only then can women of the world achieve the highest possible standards of physical, mental, reproductive and sexual health and wellbeing throughout their lives.