World Contraception Day 2020 - Four Perspectives
Each year, on the 26th September, World Contraception Day seeks to improve awareness of contraceptive methods and enable men and women to make informed choices on their sexual and reproductive health. In this time of international crisis and uncertainty from the COVID-19 pandemic, reliable sexual health services that provide a range of options and information are more important than ever
Image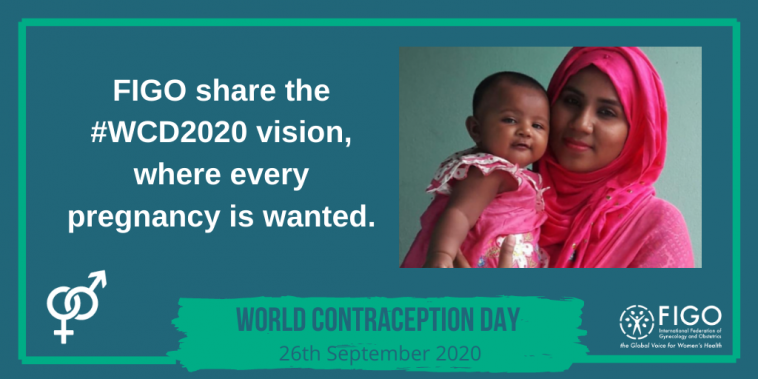 We spoke to Jill Sheffield, founder of Women Deliver and Chair of the FIGO Contraception and Family Planning Committee, as well as her committee colleagues Megan Elliot (Marie Stopes International), Dr Jotham Musinguzi (National Population Council) and Professor Gamal Serour (Al Ahzar University) on how the pandemic has affected services and the ways in which we can ensure that contraception remains available to all across the world.
The effect of the pandemic on contraceptive services
"We knew at the outset of our Committee's work that 214 million girls and women did not want to become pregnant but did not have access to family planning services and supplies for a galaxy of reasons. With the pandemic, those numbers are increasing," Jill told us.
"Many Sexual and Reproductive Health (SRH) staff have been diverted to other medical services and supply chains have been broken. Girls and women are in lock-down situations, which severely hamper their access to services and supplies."
Megan Elliot concurred, "Across MSI's 37 country programmes, we have seen the impact on reproductive healthcare access and rights. With national lockdowns restricting movement, a lack of information about what services are available, supply chain disruptions, and overwhelmed health systems diverting resources to the COVID-19 response, access to SRHR, including contraception, has been restricted and barriers have increased.
MSI programmes have had to make the case to governments for FP to be considered essential health services during COVID-19, and have been successful in 15 countries, where SRHR was considered essential or where MSI were considered to be part of the national response. Additional policy change has also had to take place: in Kenya, though SRHR was considered essential initially, the Ministry of Health restricted access to LARCs as the insertion and removal procedure was considered high risk in terms of COVID-19 transmission. Marie Stopes Kenya had to advocate for this to be overturned."                                                                                         
In Uganda, Jotham Musinguzi (NPC) reported similar challenges. "The lockdown meant that there was virtually no transportation, both public and private, so women and girls could not access their usual services. This has been particularly acute in rural areas, which make up 85% of the country's population. As a result, unplanned pregnancies have gone up, as well as teen pregnancies, especially with the closure of schools."
"Where the lockdown allowed for emergencies on health grounds, girls and women reaching health facilities found neither health providers nor supplies or family planning commodities."
In Egypt: "antenatal clinics, family planning services and admission of all non-emergency SRH care were stopped in the public sector as well as in most of the private sector, particularly with the first wave of the pandemic," Gamal Serour shares.
The need for services to adapt, as well as be considered 'essential services' remains an ongoing priority for the Committee. "Clearly," Jill tells us, "there is a need for different approaches and solutions to reinstate access to contraception and family planning services and supplies, as well as to extend, expand and improve our reach, including improving and extending our communications. The Committee strongly believes that SRH/Maternal Health Services need to be included in and identified as Essential Health Services starting NOW". 
Adapted approaches for family planning service provision
With these barriers in mind, the Committee considered some of the key ways that family planning services can adapt and respond to ensure that contraception remains available to those who want it.
Postpartum Family Planning
"We believe that the social distancing and lockdowns experienced globally speak to an urgent need to expand postpartum family planning services, which present unique opportunity for both women and professionals to provide comprehensive and integrated health care," Jill explains. "With the partial and sometimes complete close down of reproductive health services in many parts of the world, delivery may be the one and only opportunity many women have to access contraception.
Maternity units across the globe must urgently develop postpartum family planning services that offer long acting contraceptive methods, such as PPIUD and others, which are effective and reduce the need for return trips for supplies."
Telemedicine
Telemedicine and expanded forms of communication, including social media, have also been useful in re-establishing access to services and disseminating information. As some are cautious of visiting health facilities during the pandemic, MSI have worked to build community awareness around their commitment to COVID-19 prevention. "For example,", Elliot tells us, "in Mali we conducted a major awareness campaign, to build public awareness around both COVID-19 risks and of the measures the programme is taking to protect clients. Through radio shows, Facebook broadcasts and community-based campaigns, the team were able to ensure that their local communities felt comfortable accessing MSI's services and were armed with accurate information on how to guard against infection."
"Under lockdown, our programmes adapted quickly to set up home-based call centres, serving over 1 million clients since the start of the year. Between March and April 2020, our contact centres saw a 50% increase in clients interacting via social media messages, implying that having discreet ways to access information on SRHR is particularly important under lockdown, when young women might be stuck at home with parents, or with abusive partners."
Task Sharing/Combining services
For Jill, task sharing, particularly with nurses and midwives who are in a position to provide counselling and the provision of methods, would be a great way forward. FIGO's PPIUD project, working across six different countries towards the institutionalisation of PPFP and PPIUD, demonstrated the safety and effectiveness of task sharing. Training nurses and midwives in counselling and insertion had significant impacts on women's access to PPFP as, in many contexts, they were the main service provider that women interacted with during their pregnancy and delivery.
MSI found such this approach useful, "by doubling up with other essential services, such as immunisation, food delivery programmes or COVID-related activities, we have found that programmes can continue to deliver SRHR services, whilst maximising health system resources. In Zimbabwe, MSI's programme integrated family planning into the local immunisation programme, ensuring rural women could still access services."
Supply Chains
Supply chains have been particularly problematic during the pandemic, Jill tells us. "We need to plan in advance about national supply chains and how they may be affected in order to mitigate against a repeat of the current situation. And, of course, health workers need to be provided with adequate PPE moving forward."
Front line supply delivery has also needed to adapt. Musinguzi explains that in Uganda, "Some private health facilities are taking online orders or prescriptions by phone and delivering them innovatively by 'Boda-Boda' riders or local motor bike cyclists to individual homes."
Similarly, for Gamal Serour, "During the period of complete lock down some individuals [in Egypt] could afford to send SMS to a nearby pharmacy to have a home delivery of contraceptives or anti-microbials for STDs, iron supply for pregnant women or other needed medications."
Consistency in the availability of these services, however, may also expose economic inequalities that need consideration. "Such services have been possible for the high-income group in the country and not for the less well-off, presenting huge injustices and inequity," Gamal Serour explains. "During the pandemic, millions of people have been laid off from their jobs or had a marked reduction of their income and, consequently, do not have the cash to buy necessary medication to manage their reproductive health appropriately."
Sharing Experiences this World Contraception Day
Experience sharing and cross-contextual learning will be key to how the international community respond and adapt to the pandemic. The FIGO Committee on Contraception and Family Planning have opened a virtual 'Call Out Box' this month, to develop a space to encourage the sharing of new ideas and experiences in improving access to services and supplies. "Because of the geographic and organisational diversity of the committee members, we are in a position to bring forward examples of how to engage, partner and collaborate with other organisations working in our field of common cause. We hope that our members can urge the relaxing of some restrictions placed on contraceptive and services and supply access."