Trustee for Asia Oceania – Dr Ravi Chandran
Dr Chandran is currently Consultant Obstetrician and Gynaecologist at the Gleneagles Medical Centre in Kuala Lumpur Malaysia. 
He became a member of the UK's Royal College of Obstetricians and Gynaecologists in 1988, and went on to receive training in maternal-foetal medicine at King's College Hospital London and the John Radcliffe Hospital at Oxford University. He pursued an academic career at the National University of Malaysia and during his tenure as Associate Professor, was involved in research activities culminating in publications in leading peer reviewed journals. He became a Fellow of the American College of Surgeons in 1996, Fellow of the Royal College of Physicians of Ireland in 1998 and in 2001, was elevated to the Fellowship of the RCOG.
He is a Past President of the Obstetrical and Gynaecological Society of Malaysia and over the last 15 years, he has been actively involved in the Asia and Oceania Federation of Obstetrics and Gynaecology (AOFOG). He joined the Executive Board as Treasurer in 2009, followed by a tenure as Vice-President 2013 – 2015. In June 2017, he was elected as President of AOFOG. During his time as President-Elect (2015 – 2017) and President (2017 – 2019), he made it his mission to make AOFOG a more efficient and pro-active organisation, making its work more relevant to its diverse body of member societies. 
Image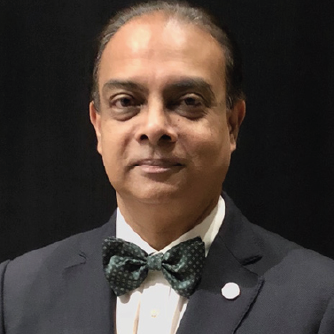 FIGO Regional Trustees 2021–2023