High-Income Postpartum Family Planning & COVID-19
Image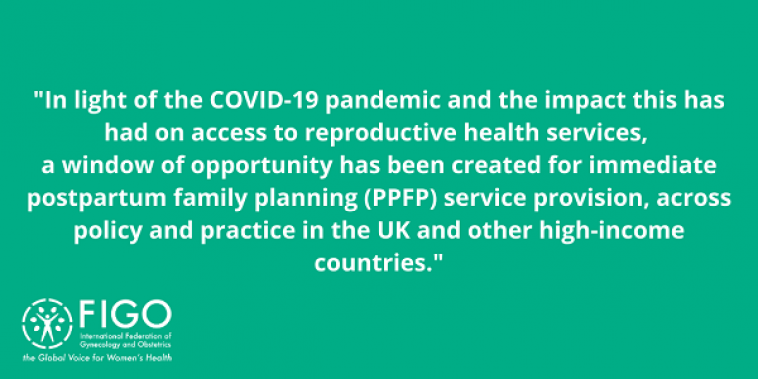 "Every OBGYN should be able to counsel on family planning – providing balanced, non-coercive and quality care, where you give accurate information and take time to answer questions so that a woman can make an informed choice for herself and her family."
Dr Anita Makins, Director of FIGO's Postpartum IUD (PPIUD) Initiative.
Dr Makins/FIGO has long advocated for the provision of postpartum contraceptive services to be made a priority in high-income settings. In a previous interview, Dr Makins emphasised the importance of birth spacing even in high income countries, where the average age at childbirth is much later, sometimes resulting in multiple pregnancies over a short period of time. Appropriate birth spacing is known to reduce risk of pre-term labour, miscarriage and infant death, as well as bringing many other health benefits to the mother and child.
Research shows that up to a third of estimated pregnancies in the UK are unplanned, and 1 in 13 women presenting for abortion or childbirth in a UK health board had conceived within a year of a previous childbirth, showing that there is a clear unmet need for post-partum contraception. Within health systems such as in the UK, family planning has often been departmentalised and not seen as the role of OBGYN's. Traditionally, contraception is offered to women at around six weeks post-delivery, which puts pressure on both the woman and the primary health care system. Fertility will return within 21 days of giving birth if the mother is not fully breastfeeding which is a common scenario in high income countries.
However, in light of the COVID-19 pandemic and the impact this has had on access to reproductive health services, a window of opportunity has been created for immediate postpartum family planning (PPFP) service provision, across policy and practice in the UK and other high-income countries.
During April, the Faculty of Sexual and Reproductive Healthcare at the Royal College of Obstetricians and Gynecologists (RCOG) launched new recommendations for women to access contraception in maternity units during the pandemic.  Recognising that GP practices and sexual health clinics were significantly reducing their services during the pandemic, recommendations were made for maternity services to provide contraceptive counselling and services to ensure women still had access to safe and effective methods of contraception.
Dr Edward Morris, President of the Royal College of Obstetricians and Gynaecologists, said:
"A choice of safe and effective contraceptive methods should be offered to women right after birth, particularly during the coronavirus outbreak, when there are limited GP and contraceptive services available.

Meeting the contraceptive needs of women in one go in a maternity unit will help to reduce the need for additional visits to health services, and reduce the risk of coronavirus transmission among women and healthcare professionals."
At Oxford University Hospital NHS Trust, immediate postpartum family services were implemented in April 2020.  Although planning had been in the making for many months, the pandemic resulted in services being speed up and a decentralisation of decision making, meaning that PPFP services could be up and running within a few weeks of sexual health services closing down. These services offer women a choice of three types of immediate postpartum contraception – 3 months of the Progesterone only Pill (POP), Medroxyprogesterone Acetate (DMPA) IM injection prior to discharge and Postpartum IUD (PPIUD) at Caesarean section.
Overall there has been a 50% uptake, showing how popular the service is and that maternity services in the UK are well placed to provide contraception immediately after childbirth. Despite the immediate pressure of COVID-19 on health services being relieved, the provision of immediate postpartum family planning services is planned to be continued at the trust due to the demand for these services.
On a global level, FIGO has called for greater establishment of PPFP services, in particular Long Acting Reversible Contraceptives (LARC's) to address the global unmet need for contraception during the COVID-19 pandemic. As sexual and reproductive health clinics shut down, maternity services across the globe offer the ideal opportunity to provide women with quality postpartum family planning services during the peak of the pandemic and beyond. Establishing contraceptive counselling as a routine part of maternity care, not only increases access of women to contraceptive services, but also reduces pressure on wider health systems.
FIGO advocates for PPFP service provision, as part of routine care in high, middle and low-income settings.  The immediate postpartum period is an ideal opportunity to address the unmet need for contraception on a global scale and the coronavirus pandemic has made this time even more important. Essential services must continue and contraception is a key component.