FIGO announces selection of the 2021–2023 committee vice chairs
Image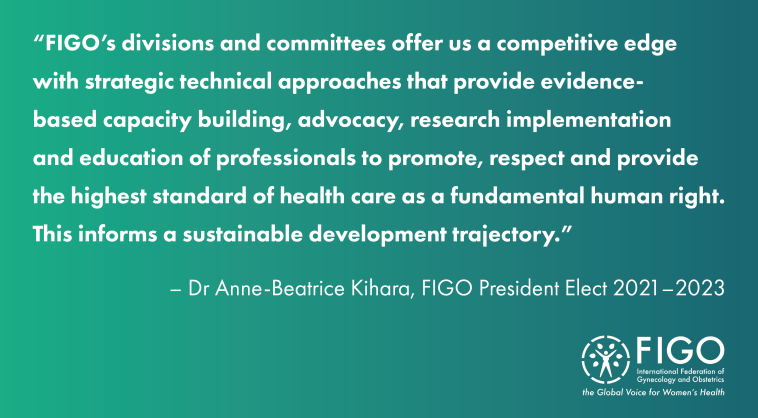 We are pleased to announce the incoming committee vice chairs. They will serve as vice chairs for the remainder of the 2021–2023 term before assuming their role as chairs in October 2023.
Selected by the current chairs, President Jeanne Conry, and President Elect, Dr Anne-Beatrice Kihara, based on their incredible achievements and engagement within FIGO, they will continue to shape the work carried out by committees, and advance FIGO's mission in line with the decade-long 2021-2030 Strategic Plan.  
Congratulations to the new vice chairs in FIGO committees. 

At FIGO we steer the global voice in women's health. We have a challenging landscape riddled by issues such as the Covid-19 pandemic, climate change, natural and humanitarian crisis, global economic recession, gender inequalities and social inequities - but we maintain a ray of hope and possibilities. FIGO's divisions and committees offer us a competitive edge with strategic technical approaches that provide evidence-based capacity building, advocacy, research implementation and education of professionals to promote, respect and provide the highest standard of health care as a fundamental human right.  This informs a sustainable development trajectory.  

Alone we cannot stand, but together in collaborative partnership and networks that engage duty bearers, donors, development partners, line ministries, implementers, civil society and communities we have healthier women, families and nations.  

– Dr Anne-Beatrice Kihara, FIGO President Elect 2021–2023 
2021–2023 FIGO committee vice chairs
Division of Sexual Reproductive Health and Wellbeing 
Committee on Contraception – Dr Asha Kasliwal, United Kingdom 
Committee on Safe Abortion – Dr Laura Gil, Colombia 
Committee on Reproductive Medicine, Endocrinology and Infertility – Dr Nikhil Purandare, Ireland 
Division of Maternal and Newborn Health  
Committee on Childbirth and PPH – Dr Jolly Beyeza, Uganda 
Committee on Health Systems Strengthening and Respectful Care – Dr Jezid Miranda, Colombia 
Committee on Impact of Pregnancy on Long-term Health – Dr Liona Poon, Hong Kong 
Committee on Preterm Birth – Dr Catalina María Valencia González, Colombia 
Committee on Infections During Pregnancy – Dr Deborah Money, Canada 
Division of Benign Surgery 
Committee on Minimal Access Surgery – Prof Ivo Meinhold, Germany 
Committee on Urogynaecology and Pelvic Floor Disorders – Dr Magali Robert, Canada  
Committee on Obstetric Fistula – Dr Rachel Pope*, USA 
Additional FIGO committees 
Committee on Women's Cancer – Prof Sarikapan Wilailak, Thailand 
Committee on Menstrual Disorders and Related Health Impacts – Dr Ally Murji, Canada 
Committee on Women Facing Crisis: Human Rights, Refugees and Violence Against Women – Dr Atziri Ramirez, Mexico 
Climate Change and Toxic Environmental Exposures – Dr Nathaniel DeNicola, USA 
Committee on Ethical Aspects of Human Reproduction and Women's Health – Dr Aris Antlakis, Greece 
Committee on Well Woman Health Care – Prof Chiara Benedetto, Italy 
* Having started the 2021–2023 term as vice chair, Dr Rachel Pope will serve again as chair for 2023-2025 to be able to complete a full term.  
For more information on FIGO's divisions and committees, please click here.